Lumen Technologies said it has deployed 400 Gbps (400G) services across its U.S. intercity wavelength network connecting 70 markets. The company also noted that it is fulfilling customer orders of more than 50TB of 400G wavelengths.
Reaching the 70-market milestone gives customers diverse routing options to establish a resilient core digital network that provides resiliency, scalability and ultra-low latency, Lumen said.
As the company noted, wavelengths are private, dedicated connections – making them more secure than other network alternatives. Optical encryption can also protect data as it's moving, the company said.
More than 240 data centers are enabled for the Lumen 400G wavelength services and more than 800 TB of capacity currently runs across the network.
The intercity expansion will continue throughout 2023 and beyond, extending this network and pushing it deeper into the metro edge, Lumen said.
Lumen has set its sights on the business market since the merger of CenturyLink and Level 3 several years ago. In pursuit of key business customers, Lumen had been expanding its high-capacity service.
Last month, the company said it would be adding 6 million fiber miles to its business network. When the upgrade is completed in 2026, the network is expected to be comprised of almost 12 million fiber miles.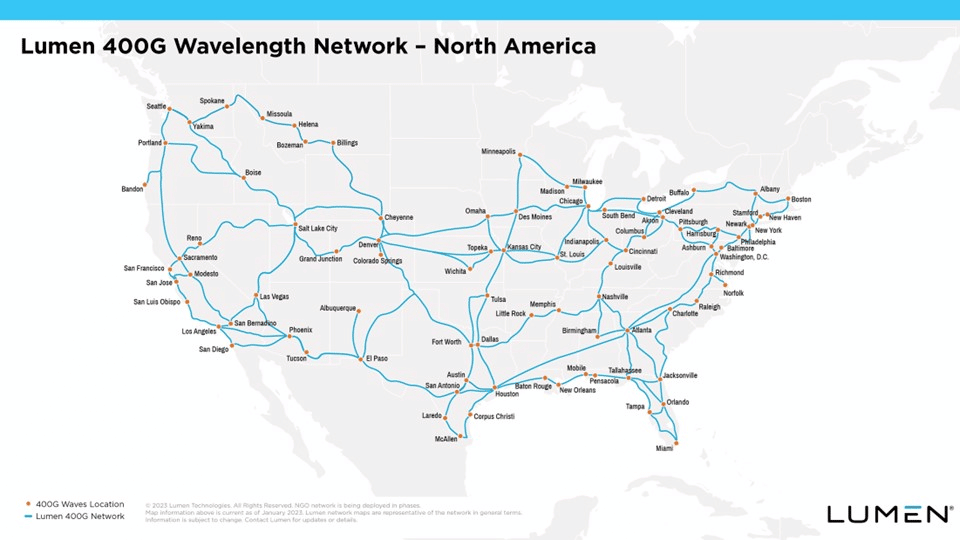 Lumen said it would be deploying multi-conduit infrastructure for intercity networks because it enables diverse fiber types to be installed quickly and economically. Not using this approach can limit networks to older technology, Lumen said. The company will use ultra-low-loss fiber from Corning.
"The Lumen network is our crown jewel, and our network infrastructure solutions are at the core of what we do," Miriana Martinova, Lumen Enterprise Core Network Solutions senior vice president, said in a prepared statement. "We're investing to win. We see a significant demand from enterprises, government agencies, hyperscalers and wholesale customers for high-bandwidth interconnections between their data centers and public cloud. Combining our upgraded intercity fiber network with our next generation wavelength network helps these businesses quickly and securely enable a digital journey that can take them well into the future."
Joan Engebretson contributed to this report