IHS Technology has issued a rather pessimistic global LTE equipment forecast, despite a rather positive current picture.
The worldwide mobile infrastructure market grew 3% between the fourth quarter of 2014 and the fourth quarter of 2015, according to IHS. The macrocell mobile infrastructure market totaled $13 billion in the fourth quarter of 2015, driven largely by LTE deployments which saw a revenue increase of 20% over the previous year, researchers said.
LTE Equipment Forecast
But don't expect LTE infrastructure growth to continue, IHS said. IHS researchers' LTE equipment forecast calls for a decline between 2015 and 2020. During that period, the market will see a negative 13% compound annual growth rate, IHS said, also noting that 2016 will be the first year LTE equipment sees a revenue decline, IHS said.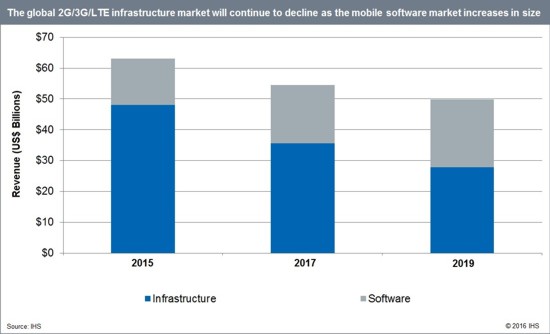 Other key takeaways include:
For the full-year 2015, the worldwide macrocell mobile infrastructure market totaled $48 billion
Ericsson led the overall 2G/3G/4G mobile infrastructure market in 2015, followed by Huawei, Nokia Networks, ZTE and Alcatel-Lucent
Mobile infrastructure software revenue grew 17 percent in 2015 over the prior year, mostly driven by LTE-Advanced (LTE-A) upgrades
Quarterly LTE revenue is now $2 billion higher than 2G and 3G revenue combined
As of January 2016, 480 commercial LTE and 116 LTE-A networks have been launched