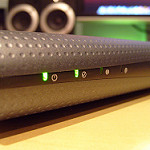 According to research from Leichtman Research Group (LRG), major telco broadband losses are accelerating, more than doubling from a year ago. Collectively, major tier 1 and 2 telcos lost 360K broadband subscribers in 2Q16, compared with 150K in 2Q15.
Compare that with major cable broadband net adds of 553K in 2Q16, most of which came from Comcast and Charter/Time Warner Cable (497K). Telco broadband losses have been accelerating, with net losses for four of the past five quarters, reports LRG.
Cable broadband net adds are actually accelerating, with 2Q15 adding more broadband subscribers than any 2Q since 2008. Over the past year, cable companies have added about 3.5 million broadband subscribers, while major telcos have lost about 500K, reports LRG.
By LRG's math, major cable companies now have 1.6x the broadband subscriber base that major telcos do, with cable broadband at 57 million and telco broadband at 34.9 million. That represents about 95% of the total U.S. broadband market, leaving smaller tier 2 and 3 providers and competitive overbuilders like Google Fiber serving the remaining 5%.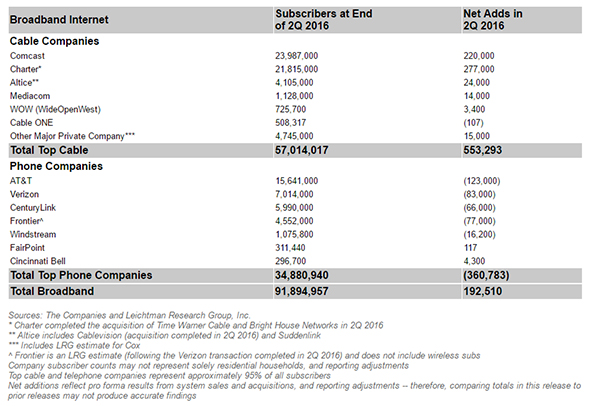 The two dominant telcos have in some ways 'sacrificed' parts of the broadband market to their cable competitors. Both AT&T and Verizon put the vast majority of their broadband focus on their fiber powered U-verse and Fios platforms respectively. They've basically given up on their legacy DSL broadband footprint, where the majority (although not all) of their broadband losses come from.
Of course this LRG research is only focused on the fixed broadband market and does not take mobile broadband connections into consideration, where the reverse is true, with major telcos basically owning the mobile broadband market. Cable does have an impressive WiFi footprint though, which many are speculating they will leverage for some form of mobile broadband play soon.
Image courtesy of flickr user DeclanTM.