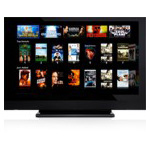 Americans are increasingly connecting to the Internet via their TV sets, either directly with a "smart" TV or through a video game console, Blu-ray player, set-top box (STB) and/or other type of stand-alone device, such as Roku, Apple TV or Google Chromecast, according to a new report from the Leichtman Research Group (LRG). The percent of U.S. households with Internet-connected televisions is now 49 percent, up from 38 percent in 2012 and 24 percent in 2010.
According to LRG's "Emerging Video Services VIII" consumer research report, 47 percent of households subscribe to Netflix, Amazon Prime, and/or Hulu Plus. More OTT content is being consumed as well, with 24 percent of adults watching video via a connected TV at least weekly as compared to 13 percent two years ago and 5 percent four years ago.
Subscribing to Netflix is a significant factor in rising TV-to-Internet connections, LRG found: 49 percent of Netflix subscribers watch video via the Internet weekly as compared to just 8 percent among those surveyed who aren't Netflix subscribers. Nearly four in five (78 percent) of Netflix streaming video consumers said they watch Netflix on a TV set, a level similar to that for the previous three years, LRG notes.
Commenting on the latest findings, LRG President and Principal Analyst Bruce Leichtman stated, "While this study is LRG's eighth annual report on this topic, Emerging Video Services have truly emerged over the past two to three years. This recent growth was spurred by Netflix's decision in the third quarter of 2011 to focus on streaming video, coupled with the proliferation of connected TV devices, smartphones, and iPads and tablets."
Other highlights of LRG's latest consumer research report include:
80% of all Netflix subscribers also subscribe to a pay-TV service — compared to 85% in 2012, and 88% in 2010;
48% of all non-subscribers to a pay-TV service get Netflix — compared to 29% in 2012, and 16% in 2010;
 15% of Netflix subscribers agree that their Netflix subscription is shared with others outside their household;
 47% of households get Netflix, Amazon Prime, and/or Hulu Plus;
 On a daily basis, 31% of adults watch video on non-TV devices (including home computers, mobile phones, iPads, and tablets), and 58% weekly — up from 18% daily, and 46% weekly two years ago;
Including connected TV sets, 34% watch any over-the-top video daily, and 61% weekly.