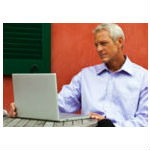 "I was totally ignorant of the whole computer thing . . . and terrified of it," says a senior citizen in a video from Comcast promoting the company's low-income Internet Essentials program, which the company has been expanding to include low-income senior citizens. "I'm learning to loosen up a bit and lose the fear that I've had."
The video appears on the Comcast website and is reachable through a link in a news release about the expansion of Internet Essentials to low-income seniors in San Francisco announced today.
Internet Essentials offers discounted Internet service at $9.95 a month plus a free Wi-Fi router. The program includes digital literacy training – a particularly important aspect of the program for seniors like those featured in the video who may have rarely or never used a computer before.
"For seniors to have [access] to the Internet is essential because without that they are left behind," says Dwayne Taylor, an Internet instructor, in the Comcast video.
"I use the Internet for communicating with friends and family," comments the senior from the video quoted earlier in this post. "I have a friend in Jamaica I communicate with . . . I remember when I used to write letters or send cards. We don't do that anymore."
Low-Income Broadband for Seniors
Comcast initially launched Internet Essentials to low-income households with at least one child eligible for the federal school lunch program. The move was made five years ago as a condition of Comcast's merger with NBCUniversal. Since then Comcast has increased the broadband speeds that Internet Essentials service supports and has expanded the program.
Recently the company increased the speed to as much as 10 Mbps and said the program would be available to the family of any student in a school that has at least 50% of students who are eligible for the school lunch program. At that time the company also launched the program for seniors in West Palm Beach, Florida, where the digital literacy video was shot.
San Francisco was a logical expansion market for the seniors program, as the Internet Essentials program has been particularly successful in California. According to a Comcast infographic, 23% of those in the state who are eligible for Internet Essentials have signed on for it.
The FCC has required several providers – including CenturyLink and AT&T — to offer low-income broadband programs as merger conditions but Comcast has been the most aggressive in promoting its offering. Comcast hasn't revealed the economics of the program, but the company certainly seems to have determined that the program makes good business sense.
Comcast has said that it plans to expand the Internet Essentials program for seniors to other markets in the future.