Not everyone got an opportunity at a long holiday weekend earlier this week. Multiple fiber acquisition deals valued at over $2 billion closed on Monday July 3rd, including Consolidated-FairPoint and Uniti-Southern Light/Hunt.
Consolidated's $1.3 billion purchase of FairPoint will create a top ten fiber provider in the U.S., with a combined 36K route-mile fiber network, connecting over 2,600 wireless towers and 8,800 on-net buildings. The new company which will be called Consolidated Communications serves approximately 800K broadband and 800K voice customers across 24 states.
The final purchase price is slightly lower than the original announced $1.5 billion transaction, based on present equity value.
"The financial benefits associated with the combination in the form of cost savings and reduced financial leverage provide us additional operating and strategic flexibility going forward," said Consolidated CEO Bob Udell in a press release.
Uniti Fiber
Uniti Group, the broadband focused REIT spun out from Windstream, completed two deals, originally valued at $870 million. They include the acquisition of Louisiana-based Hunt Telecom and Alabama-based Southern Light. Those assets, combined with other previously acquired assets are being combined to form Uniti Fiber, a fiber infrastructure division within Uniti.
Uniti Fiber now owns about 30K route-miles of fiber, encompassing 1.1 million fiber strand miles, according to a press release. Uniti Fiber is also currently constructing 3K miles of dark fiber, according to the company.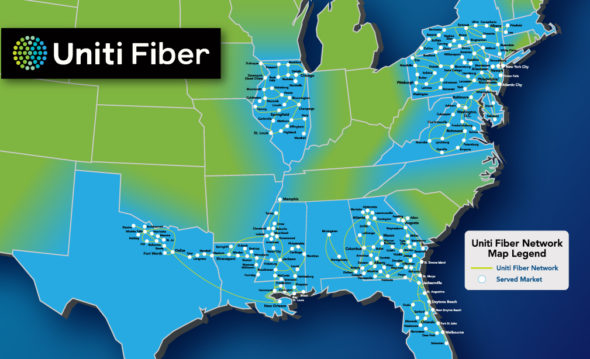 "Uniti Fiber will be led jointly with Andy Newton, formerly Chief Executive Officer of Southern Light, serving as President Infrastructure and Operations, and Ron Mudry serving as President of Sales and Business Development," said Kenny Gunderman, president and CEO of Uniti in the press release. "The executive team of Hunt will continue to have senior leadership positions in Uniti Fiber, particularly focused on E-rate, military and enterprise products and services."