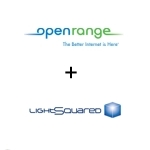 LightSquared, the new wholesale 4G network operator has landed their first partner, rural wireless provider Open Range. The two have agreed to an Initial Network Agreement (INA), which lays the framework for a rural 4G partnership, with the details to be worked out later.
Under the INA framework, the partnership is expected to include Open Range leasing LightSquared's L-band spectrum for the provision of satellite powered 4G services and also include a reciprocal nationwide 4G roaming agreement. The two also intend to "…collaborate on the design, build-out and operation of Open Range's network as well as on product and service evolution."
"This partnership enables LightSquared to provide an enlarged and seamless nationwide 4G-LTE footprint to all of our retail partners and their customers, and is part of LightSquared's planned commercial service which will result in billions of dollars of investment, offer consumers a new wireless competitor and create tens of thousands of jobs across America," said Sanjiv Ahuja, chairman and chief executive officer of LightSquared in a press release.
LightSquared has some pretty ambitious plans to build and launch a wholesale 4G network using both satellite and terrestrial assets. They are busily lining up infrastructure partners, courting other service provider partners (including rumors of a Sprint partnership), and working through the FCC to get their spectrum house in order.
Open Range has secured over $367 million in funding, including a non broadband stimulus RUS loan for $267 million, to build a WiMAX based broadband wireless network which will offer both voice and data services. Their footprint spans 546 rural markets, across 17 states, covering 6 million people.
They signed a $100 million+ deal with Alvarion to build out this network back in the summer of 2009. With this new potential LightSquared deal, their technology path may now include LTE, which they were already exploring.
This deal is quite preliminary, with details to be worked out later. It's far from done.