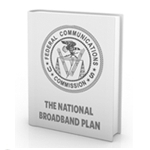 Friday, March 16, marks the second anniversary of a document that has made a huge impact on U.S. telecom policy—the National Broadband Plan.
Telecompetitor caught up this week with Blair Levin, who headed up the 70-person team that put the nearly 400-page document together in a period of about nine months. Levin, who now heads up the Gig U initiative to bring ultra-high-speed broadband to university communities, shared his thoughts on the team's successes—and what he would do differently if the plan were written today.
Successes
One aspect of the National Broadband Plan of which Levin is particularly proud is the proposal to conduct a voluntary incentive auction of broadcast spectrum for mobile broadband use—an idea first proposed in the plan. And now that Congress has given the FCC the authority to conduct an incentive auction, that idea is on its way to becoming reality.
"We spent $20 million on the plan and Congress [says] the incentive auction is worth $22 billion," said Levin. "That's a thousand-to-one return on investment and it's better than Goldman will do on the Facebook IPO."
Levin also sees strong potential in the Unified Community Anchor Network—a project to link high-speed academic and research networks nationwide that received broadband stimulus funding and which Levin said also had its genesis in the National Broadband Plan.
With UCAN, Levin said, the U.S. "will leapfrog from having a good but not great research and community backbone network [to one supporting] 100 gigabits per second"—and he sees big potential in the new network.
"It's almost certain that over the next 10 years there will be research done over that network that could only be done over that network and it will deliver a greater return on investment than the incentive auctions," Levin predicted.
Such a development would not be unprecedented, Levin said. He likened it to the new industries that were created by the National Science Foundation in the seventies, ultimately creating what we think of as the Internet economy today. Pointing to energy and health resources as two areas that could benefit from UCAN, Levin said, "When bandwidth isn't a constraint on innovation, it will create new industries and it will be great."
If we knew now …
When the National Broadband Plan was released, Levin noted that it was destined to be a work in progress—and on our call this week, he said, "When the facts change, we have to change our way of thinking."
Two years after the plan's release, Levin noted two areas where facts have changed.
First, he said, the Light Squared saga has demonstrated that reclaiming spectrum for mobile broadband will be more difficult than anticipated.
"It's too difficult to dislodge incumbents from existing spectrum," said Levin. "I'm not saying we should give up [on that idea], but I am saying don't put all your eggs in that basket."
Instead, he encouraged policymakers to think about "How do you allow sharing of spectrum more effectively?"
Another thing Levin said he would do differently today would be to take a stronger position on usage caps. "We didn't believe government policy should oppose caps," Levin said.
If caps become standard process, however, Levin said there are certain uses that shouldn't be subject to caps. "You don't want a poor kid to not be able to do his homework assignment to watch last night's presidential webcast," said Levin. Another example, he said, might be an emergency medical service that sends an accident victim's medical information when the accident is reported, perhaps using an On Star-style offering.
"Instead of saying, 'We have nothing to do with it,' I wish the FCC would say 'When it comes to health, education and public safety, make sure data caps [don't apply],'" said Levin.
Agenda setting
More than 300 people contributed in some way to the National Broadband Plan, Levin said—and an important contribution they made was to provide a lot of data to shape the debate about how to obtain universal broadband throughout the U.S. "In a short time we did a tremendous amount of analytic work," he said.
Using that information, he said, "We produced a vision and a lot of suggestions that every debate is shaped by."
The National Broadband Plan, he said, "represents a target to shoot for and shoot at."
The second half of that comment may have been aimed at rural carriers who disagreed with some aspects of the plan, particularly those involving Universal Service reform. Rural carriers felt the 4 Mbps broadband speed target proposed in the plan was too low and they opposed a plan to eliminate rate of return regulation also proposed in the plan. When the FCC ultimately implemented the plan, the 4 Mbps speed target was retained but the idea of eliminating ROR was scrapped, at least for now—although details of how ROR will work in the future have yet to be resolved.
Even detractors would have to admit that the plan has been what Levin called "agenda-setting"—and as Levin noted, "On that level it has been fantastically successful."