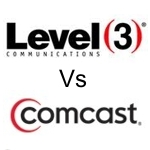 Level 3 has painted its dispute with Comcast about Internet traffic exchange, aired yesterday, as a net neutrality violation on the part of Comcast. But it's really the latest example of a long-standing conflict between operators of "eyeball" networks that receive more traffic than they generate (such as Comcast) with operators of networks that send more traffic than they receive. In announcing a deal several weeks ago to distribute video content for Netflix, Level 3 cemented its position as a network operator that sends more traffic to other networks than it receives from those networks.
When Level 3 informed Comcast that Comcast would be receiving five times more content from Level 3 than it was delivering to that carrier, the cable company asked for compensation. Level 3 agreed to pay what it called a "recurring fee" to Comcast. But in a statement released yesterday, Level 3 Chief Legal Officer Thomas Stortz argued that "With this action, Comcast demonstrates the risk of a 'closed' Internet, where a retail broadband Internet access provider decides whether and how their subscribers interact with content."
In response, Comcast Senior Vice President of External Affairs and Public Policy Counsel Joe Waz wrote a blog post accusing Level 3 of trying to gain an unfair business advantage over competitors in the content distribution market. Level 3, Waz said, is essentially "trying to force Comcast to give Level 3 unlimited and highly imbalanced traffic and shift all of the cost onto Comcast and its customers."
Waz seems to be implying that other operators of content distribution networks pay Comcast for a traffic imbalance rather than peering, or exchanging traffic for free—and that would not be surprising or unprecedented. As Craig Moffett, senior analyst for Bernstein Research, wrote in a research note issued this morning, "Comcast apparently required that they [Level 3] move from reciprocal peering to paid delivery. If so, this would be a relatively conventional development. Indeed, Level 3 did precisely the same thing when it ended its peering relationship with Cogent last year, and has been a vocal advocate in the past of paid commercial relationships when traffic being exchanged is essentially asymmetrical."
Comcast will certainly entail additional costs if it must increase its network capacity to support the added traffic volume. And the fact that the anticipated traffic imbalance would be created by Comcast broadband customers requesting video content from Netflix in direct competition with Comcast's own video offerings undoubtedly made the situation doubly galling for Comcast.
To call Comcast's action a net neutrality violation is simply inaccurate, at least according to Moffet. As Moffett noted, "Importantly, according to Comcast, there is no consideration of any traffic discrimination by type. Video traffic will not be treated any differently than any other traffic."
Considering that Comcast is still waiting for final approvals on its plan to purchase a controlling interest in NBC-Universal, Level 3 may simply have wanted to challenge a potential adversary at a time when that adversary was most vulnerable.
The new dispute does, however, illustrate the difficulties of attempting to impose net neutrality guidelines. Unlike in the telecom industry, where rules for interconnecting networks and obtaining compensation for interconnection are tightly defined, Internet providers have been self-regulating when it comes to traffic exchange—and none of them want to see that change.
As the percentage of video traffic on the Internet continues to rise, however, we are likely to see more disputes between operators of eyeball networks and content distribution networks. And as if resolving those disputes weren't challenging enough on its own, the parties involved now have the added threat of a perceived net neutrality violation hanging over their heads.