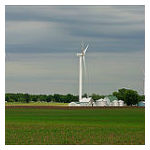 Acting U.S. Deputy Under Secretary for Rural Development Roger Glendenning today announced the awarding of $19.3 million in USDA rural broadband loans to roll out service in rural parts of Illinois and Oklahoma.
Among the loan award winners, Southern Plains Cable, LLC will receive a $15.3 million loan to build a fiber optic broadband network that is to serve customers across a 55 square mile area that includes the communities of Anadarko, Verden and Chickasha, Oklahoma. Illinois' Moultrie Independent Telephone Co. will receive a $4 million loan to upgrade its fiber network and service in a portion of its territory.
Both USDA rural broadband loans are being provided through the Rural Utilities Service's (RUS) Telecommunications Program. In addition to broadband infrastructure and services, USDA's RUS also helps fund and otherwise support the provision of electricity service, safe drinking water, and improved wastewater treatment facilities to rural communities.
"These loans will help bring high-speed internet service to rural communities in downstate Illinois and south-central Oklahoma," Glendenning was quoted in the news release. "Many rural areas still lack access to the type of reliable, affordable broadband service that can offer better access to jobs, educational, healthcare, and business services."
These loans help fund rural broadband infrastructure, which is a hot topic in the industry. There is renewed focus on infrastructure spending, thanks to the Trump administration. Rural broadband advocates are positioning rural broadband as a necessary component of any new infrastructure spending, so we may see more of this type of funding to come, and not necessarily as loans, but perhaps as grants.
Image courtesy of flickr user Tom Gill.