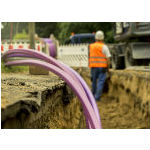 The U.S. Department of Agriculture this week announced $25.8 million in ReConnect broadband program funding. The USDA ReConnect awards went to projects in rural Arkansas and West Virginia.
In Arkansas, The Yelcot Telephone Company will receive $3.4 million equally divided between a grant and a loan to upgrade copper infrastructure to a fiber-to-the-home (FTTH) network that will connect 548 households in Baxter and Marion counties. In Stone County, The Mountain View Telephone Company will use a $3.7 million grant for a FTTH deployment. The project has the potential to connect 702 households along with 15 pre-subscribed farms and a pre-subscribed business.
In West Virginia, The Harrison Rural Electrification Association will use a $18.7 million grant to build an FTTP network that is expected to connect 6,320 households, five educational facilities, a critical community facility and about 383 farms across five counties.
These were not the first USDA ReConnect awards in the two states. Previously, the Mountain View Telephone Company in Arkansas had gotten a grant of $3.75 million. In West Virginia, The Harrison Rural Electrification Association had gotten a grant of almost $18.5 million; the Ohio Valley Industrial and Business Development Corp. had gotten a loan/grant award of a bit more than $2 million and the Tyler County Development Authority had gotten a loan/grant of a bit more than $3.5 million. In all the USDA has awarded more than $343 million to this point.
The first phase of the ReConnect program, which was created in March 2018, consists of $600 million equally divided between loans, grants and combined loan/grants. The second round of funding was announced last month. The application period for this phase, which consists of $550 million, is between January 31 and March 15.