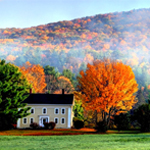 The USDA has announced nearly $100 million in ReConnect rural broadband funding this week, including four awards to Alabama companies announced at an event attended by USDA Deputy Under Secretary for Rural Development Donald (DJ) La Voy.
"Broadband is a door opener," said LaVoy at the event hosted by Tombigbee Electric Cooperative, which was also webcast. "It allows you to live anywhere you choose to live in this beautiful country of ours."
Alabama Winners
The Alabama companies winning funding include:
Tombigbee Electric Cooperative will use $28.2 million to develop what a press release refers to as an "all-dieletric self-supporting (ADSS)" fiber network that will make broadband available to 2,152 households, 20 farms, 15 businesses, 10 critical community facilities, five educational facilities and one healthcare facility. According to Wikipedia, ADSS is a type of fiber cable used by electrical utilities as a communications medium that is installed along existing overhead transmission lines and often shares the same support structures as the electrical conductors. The award came in the form of a 50% loan/ 50% grant combination.
Millry Telephone Company also won a combination loan/grant award, which will go toward a FTTH network that will be available to 3,797 households, 20 farms, 15 businesses, 11 educational facilities, four critical community facilities and two health care centers. The total value of the award is $28.2 million. In an address at today's event, Millry's CFO Annice Jordan said the area comprises 54% of the company's local exchange area.
Farmers Telecommunications Cooperative, Inc. was awarded a $2 million loan, which will go toward a FTTH network that will be available to 1,676 homes and one educational facility. At today's event, the company CEO Fred Johnson said the company already deployed high-speed broadband to 95% of its service area and the award will enable it to reach the remaining 5%.
National Telephone of Alabama, which does business as TEC, also won a combination loan/grant award, which will support a fiber-to-the-premises network reaching 278 households, 17 farms and 14 businesses. At today's event, James Garner, the company's vice president of operations, said the company will offer gigabit service for about $60 a month. He also noted that over the next 10 years, the company expects to spend "upwards of $100 million" on broadband through various programs.
Beyond Alabama
USDA ReConnect awards for other states announced this week include:
$12.8 million for Wabash Telephone Cooperative to deploy 298 miles of fiber in rural Illinois, reaching 1,684 households, 31 farms, 29 businesses, nine educational facilities, two critical community facilities and one health care center. The award was 50% loan/ 50% grant.
Oregon Telephone Corporation won a $6 million grant to deploy 89 miles of fiber to support broadband service at speeds ranging from 30 Mbps to 1 Gbps in the state. The network will reach nearly 650 locations and support VoIP and video services, according to a press release.
As we reported earlier this week, Cordova Telecom won $18.88 for a high-speed broadband network in Alaska.
This week's awards represent more than 15% of the total $600 million that USDA budgeted for the ReConnect program, which targets rural areas currently lacking high-speed broadband.