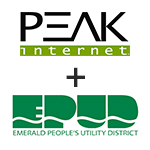 The latest municipal broadband acquisition involves Oregon-based PEAK Internet, who has acquired EPUD Internet Services and Eugene Free Net from Emerald People's Utility District (EPUD), a publicly owned power company serving Lane County, Oregon.
While the PEAK EPUD deal is less common than many of the growing number of M&A transactions in the broadband industry, this type of transaction involving the purchase of a publicly-owned broadband network is of growing interest.
In a press release, EPUD said it had "determined that being an Internet service provider doesn't fit with our core mission as a public power utility" and that PEAK Internet would be a better fit for that role.
PEAK EPUD Deal
Another utility company – Consumers Power – is one of three entities that own PEAK Internet.  The others are two small independent telcos, Pioneer Consolidated and Slayton Cooperative Telephone Company. The partners started PEAK Internet in 1992 and currently offer high-speed broadband using landline and fixed wireless technology. EPUD offers high-speed DSL in some areas.
According to today's press release, PEAK and EPUD have had a "close relationship" for many years.
Municipally owned broadband networks have been controversial since their inception. Typically they come about when local residents are unable to persuade incumbent providers to deploy or upgrade broadband service, but incumbents invariably put up a fight. And while some municipal broadband projects have brought substantial economic gains to their communities, some others have failed – a reality which, in combination with support from the incumbents, has caused some states and municipalities to enact anti-municipal network legislation.
Perhaps it's surprising that there aren't more deals like the one between PEAK and EPUD, considering that some municipalities and power companies may find that financing and getting a network built are closer to their core competencies than operating such networks.