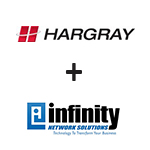 Hargray Communications says that it has agreed to acquire Infinity Network Solutions, an information technology services company operating in Macon and Covington, GA. Infinity offers a variety IT and managed services to small to mid-sized businesses and public sector agencies throughout the state of Georgia.
The acquisition will expand Hargray's Data Center and Managed Services (DCMS) business and enlarge its footprint in the southeast. Robert and Brian Betzel will stay with the organization after the transition. Robert, who was the founder and is CEO of Infinity, will become the Market Executive for the Macon Warner Robins operation. Brian, now president of Infinity, will be integration lead as Infinity and DCMS come together.
A press release stresses the continuity in operations, staff and services once the deal closes. Infinity will retain its operations in Macon and Covington.
Hargray has been busy growing through acquisitions. It announced a number of deals in the southeast during the first three quarters of 2019:
In August, the company said that it will purchase Kings Bay Communications in Kingsland, GA. It plans to invest in the network and eventually provide 1 Gbps Internet, Hargray TV, "wall-to-wall" WiFi and home phone services.
Hargray made two announcements in May. It said it is had begun last-mile fiber construction in Conyers, GA. It is aimed at providing 100% fiber service to businesses in the community. It also closed its acquisition of Dark Fiber Systems, a provider in Jacksonville, FL.
In April, Hargray said that it is expanding its fiber footprint to business in Covington, GA. The move is the result of the acquisition of Dark Fiber. Earlier in the month, Hargray said that it had closed the acquisition of the Alabama assets of USA Communications. The network serves Pell City, AL and the surrounding areas.
In January, Hargray acquired three colocation facilities in the southeast. The aim is to provide services – including equipment racks, cooling, power, bandwidth and physical security – to customers in Georgia, South Carolina and northern Florida.