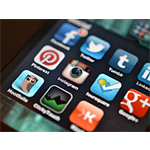 Lansing, Michigan came in at the top of the latest RootMetrics list of cities with best mobile networks. Large cities near the top of the list include Indianapolis, Atlanta and Chicago, which are home to the second, third and fifth best performing mobile networks among the 125 most populated metro areas in the U.S., according to RootMetrics. Lansing and Indianapolis had overall RootScores of 98.5 and 98.2, respectively, on a 100-point scale.
T-Mobile led all service providers in Lansing and delivered the fastest median download speeds that RootMetrics recorded. Also ranking highly, Verizon's mobile networks in Atlanta and Lansing exceeded 30 Mbps.
Atlanta took first place in terms of both mobile network speed and data performance — two of the six criteria RootMetrics assesses. The other four are network reliability, call performance, text performance and overall performance.
RootMetrics attributed much of Atlanta's high mobile network speed measurements to Verizon's superior median download and upload speeds (33.3 and 23.6 Mbps, respectively). Boston was singled out for the improvement in the city's mobile network performance over the last 12 months, rising to 17th from 52nd.
Cities with Best Mobile Networks
Large population size doesn't necessarily correspond with highly rated mobile networks, RootMetrics' Mike Parker points out in a blog post. Just three in ten of U.S. metro areas with populations of more than 2 million ranked in the top 10. In addition to Atlanta and Chicago, Tampa ranked ninth with an overall RootScore of 97.4.
More broadly, Parker highlights a general improvement in mobile network reliability in U.S. metro areas in recent semi-annual rounds of testing. Reliability in Memphis rose from 38th to fourth place in the latest rankings. Contributing to its strong showing, T-Mobile's Memphis network earned perfect scores in both getting and staying connected.
RootMetrics also recorded substantial improvements in reliability across much of California. Mobile network reliability in Fresno improved, rising to third from 17th, while Bakersfield rose from 40th to fifth. A consistently strong performer in RootMetric's tests, mobile network reliability in Indianapolis improved from a 7th place ranking to second place.
At the other end of the spectrum, Denver ranked worst in terms of recorded median download speeds. The Mile High City also ranked 124th in data performance — although it ranked a respectable 18th overall.
Ranking 124th and 125th respectively Omaha, Nebraska and Hudson Valley, N.Y. had the worst performing mobile networks, according to RootMetrics' 1H'16 assessment. A high rate of blocked calls contributed to the two cities' poor performance.