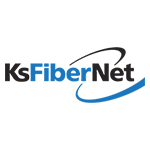 Kansas Fiber Network, LLC (KsFiberNet) is adding 100 miles of fiber to its network, extending the company's presence into two TierPoint data centers; one in, Lenexa, KS and the other in Tulsa, OK.
The new fiber-optic infrastructure from KsFiberNet offers dedicated lit services scalable from 10 Mbps to 100 Gbps. By extending its network, KsFiberNet is able to deliver services and provide access to data center operations located in growing markets, making available carrier-grade, high-bandwidth Ethernet, IP and data transport services. The company provides service and connectivity to and from other networks nationwide including Dallas, Denver, Omaha, and Chicago and to carrier-neutral content, data centers and exchange points.
"By investing in a 100-mile network expansion, KsFiberNet demonstrates continued commitment to bringing exceptional expandable and upgradeable business-class service that is competitively priced to wholesale, enterprise and data center customers," said Mike Brigman, KsFiberNet president, in a prepared statement. "The expanded network delivers lower latency, increases availability, [and] offers carrier diversity while enabling customers to have route diversity to some of the most important data centers in the middle of the country."
Ongoing data center activity around Kansas City includes expansions by Sprint and Consolidated Communications.