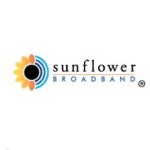 Knology announced the close of its acquisition of Sunflower Broadband, a triple play provider based in Lawrence, Kansas. The transaction was valued at $165 million. Knology expects Sunflower to to generate approximately $51 million in revenues and $22 million in EBITDA for calendar year 2010.
At the time of the acquisition announcement, Sunflower passed 54K homes and had approximately 105,000 revenue generating units (RGU). "Sunflower is a very successful, customer-focused business that will expand Knology's footprint and add meaningful scale to our existing operations. We welcome the Sunflower team to Knology and are excited about our future together," said Rodger L. Johnson, Chairman and Chief Executive Officer of Knology, Inc.
Based in West Point, Ga., the acquisition expands Knology's footprint, which is primarily spread across the southeast, into Kansas. At the end of 2Q10, Knology passed 962K homes, with 232K video, 253K telephone (includes 'on' and 'off' net), and 212K broadband subscribers, with an ARPU of $53.73.