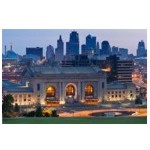 The first compilation of Kansas City Smart City data was released yesterday. Sharing the data and information with 18 other cities, five federal agencies and two other countries, Smart City project leaders explain how strategic use of Big Data analysis is helping KC improve commonly shared public infrastructure and services and can help shape federal Smart City policy.
Joining in a $15 million public-partnership with Cisco, Sprint and Big Think Partners, KC's government created a Smart City Corridor that stretches across 50 square downtown blocks and encompasses 125 network-connected streetlights and interactive information kiosks, as well as a modern, two mile-long reincarnation of an early 20th century electric streetcar system that's free to the public.
Wireless sensors installed in Smart City Corridor devices and equipment gather and transport real-time data for analysis by Big Data applications and subsequent decision-making and action by city agencies.
"We've been testing the quality of the data collected through our Smart City infrastructure," explained Kansas City's Chief Innovation Officer Bob Bennett. "Now we will put it to work to benefit Kansas City residents."
"The Smart City sensors and digital tools are cool, but understanding how to use these tools – and the data that they generate – bridges the gap between cool and smart," Kansas City Mayor Sly James pointed out.
Kansas City Smart City
With a projected cost exceeding $15 million, Kansas City launched a public-private Smart City initiative back in May 2016. The initiative is supported by gigabit network infrastructure installed by Google Fiber.
Highlighting the scope and scale of the Smart City Corridor's real-time Big Data capabilities, the city is providing a map-based visualization that reveals available public parking, traffic flow, pedestrian hotspots and the location of KC Streetcars.
In addition, KC expects to export the Smart City data to its City Open Data Catalog and introduce it via a platform developed by Xaqt. Big Data presentation technology from Xaqt is also being used to display Smart City Corridor data visualizations to the public.
Looking forward, the city expects further data gathering and analysis will yield substantial taxpayer savings by improving the efficiency of repairs and maintenance to city streets, water lines and other public infrastructure, a press release notes.
KC will also be sharing its Smart City data by publishing it during a national workshop it will co-host with Big Think Partners and the the U.S. Dept. of Commerce's National Institute of Standards and Technology (NIST).