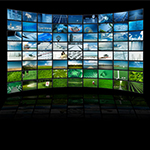 The decline of traditional multichannel video continued during the fourth quarter of last year as the sector lost almost 1.1 million subscriptions, according to Kagan, a research group within S&P Global Market Intelligence.
The video subscriber losses, which were from the cable, DBS and telecom sectors, brought losses for the year to almost 4 million.
The biggest loser was DBS, which accounted for more than half of the losses. Legacy pay-TV now has fewer than 90 million subscribers, according to Kagan.
The firm said that virtual platforms partly offset traditional declines by maintaining subscriber use of live linear channels. Overall, however, subscriptions were down almost 1.3 million for the year, Kagan said.
Video Subscriber Losses
Other highlights from the report:
The residential penetration rate for virtual and traditional multichannel services ticked down to 75% in the fourth quarter of 2018.
Multiple-system operators (MSOs) wrapped up 2018 with another round of quarterly losses, bringing the platform's annual decline to nearly 1.3 million, versus a drop of 997,000 in 2017.
Telco video services cut combined annual subscriber losses for a second consecutive year, losing 351,000 subs to end 2018 at 10.3 million.
DIRECTV and DISH each lost more than 1 million subs in 2018.
Of course, the decline of subscription-based services is well established. In December, Kagan reported that the number of homes served by telcos and cable companies that do not include pay-TV service grew by 1.2 million in the third quarter of 2018. The trend was made clear: During the quarter, 23% of wireline broadband households in the United States did not have a traditional multichannel subscription. At that point, the households fitting into this category had risen 8.5% during the previous three years.
In November, Kagan reported that multichannel video subscribers declined by one million during the third quarter of 2018. And, as in the first quarter of this year, DBS was the biggest loser.