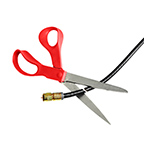 Broadband homes served by telcos and cable companies without pay-TV grew by 1.2 million in the third quarter of 2018, according to Kagan, a research group within S&P Global Market Intelligence. That is the largest increase in 'broadband-only' homes that the firm has ever measured.
Kagan reported that in the third quarter of the year, 23% of wireline broadband households in the U.S. did not have a subscription to a traditional multichannel service. The percentage of video consumers without a traditional subscription has risen 8.5% during the past three years.
Kagan implies that the trend is irreversible:
"The feedback loop that has led to the streaming revolution is now spinning full speed, compelling venerable media and telecommunications household names such as AT&T, Comcast and Walt Disney to embrace, or at least take steps toward, over-the-top video," the company said.
The firm offered year to date results. Traditional multichannel providers lost 2.8 million subscribers, the virtual multichannel customer base grew by 2.1 million, 2 million wireline broadband subscriptions were added and Netflix added 4.1 million paid subscribers.
Kagan initially reported on the third quarter last month. The firm offered other takeaways in  addition to the findings on traditional subscriptions:
The residential penetration rate stood at 76.2% as of Sept. 30 when including traditional multichannel and the estimated virtual multichannel universe
DBS had its worst quarter on record with a loss of 726,000 subscribers
Cable operators lost nearly 1.1 million subscribers year-to-date as of Sept. 30, their worst performance at the three-quarter mark since 2014
Traditional telco subscriptions fell by 94,000. By itself, Verizon shed a net 63,000 subs
And the beat goes on: Disney is launching a direct-to-consumer service next year. That, Kagan suggests, is fueling rumors  a Comcast streaming device. AT&T just recently outlined their forthcoming trio of direct-to-consumer streaming SVOD services, scheduled to launch in 2019.