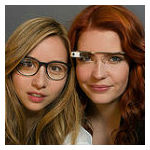 Worldwide shipments of smart glasses are unlikely to surpass 10 million a year until 2018, primarily as a result of lengthy time-to-market and the lack of a compelling consumer use-case, according to a new study from Juniper Research.
 That said, Juniper expects new releases by key players, including Samsung, Recon Instrument, and  Osterhout Design Group amongst the roster of smart glasses saviours, will buoy smart glasses sales in 2015 and 2016. Greater utility within large business enterprises and the healthcare industry will likely support ongoing investment until smart glasses catch on more broadly, according to Juniper's "Smart Glasses: Consumer, Enterprise and Healthcare Strategies and Forecasts 2014-2019" report.
Public and government concerns about safety, privacy and security are holding back consumer demand for smart glasses. Price and their status as supplementary devices are also constraining factors at this stage of the wearable-tech market segment's development, according to Juniper.
Smart Glasses Shipments
"[S]mart glasses development is at a comparable stage to smartphones in the early 2000s, primarily focused on the enterprise," Juniper asserts in a press release. "As workplaces are likely to share devices between users, rather than purchase devices in bulk for all their employees, this will result in high investment but low shipment volumes to the enterprise for the next five years."
Other key findings include:
Android will remain the dominant smart glasses OS (operating system), although the anticipated release of the Samsung Gear Blink in 2015 will bring Tizen into the space;

Most current smart glasses software is supplied on a bespoke basis to enterprise users. Visible software progress across the industry will remain low outside a few showcased achievements until software-sharing spaces emerge.
Image courtesy of flickr user Max Braun.