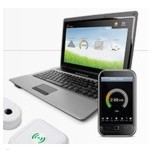 The number of automated devices connected to the Internet – the Internet of Things (IoT) – is already twice that of global population. The upward trajectory is set to continue, according to a new report from Juniper Research.
The number of automated devices connected to the Internet will increase more than 285 percent between 2015 and 2020 to reach 38.5 billion, according to Juniper's "The Internet of Things: Consumer, Industrial & Public Services 2015-2020." The number of devices that make up the IoT this year totals 13.4 billion, according to a Juniper press release.
IoT Growth
Installations across the industrial and public services sectors, as opposed to smart homes, will drive growth. Growth in machine-to-machine connections will be highest across organizations involved in sectors such as retail, agriculture, smart buildings and smart grid applications, Juniper says.
IoT device installations at Michelin and John Deere are indicative of growing IoT adoption in these sectors. This has enabled these companies to transform from being product-driven to service-driven, according to Juniper.
As Juniper defines it, the IoT "represents the combination of devices and software systems, connected via the Internet, that produce, receive and analyze data. These systems must have the aim of transcending traditional siloed ecosystems of electronic information in order to improve quality of life, efficiency, create value and reduce cost."
Other key report takeaways include:
The consumer segment (composed of the smart home, connected vehicles and digital healthcare), represents a high ARPU (average revenue per user) market segment;
Meanwhile, the industrial sector (composed of retail, connected buildings and agriculture) will enable high ROI (return on investment) through IoT projects, owing to more efficient business processes.
Despite the already large and fast-growing number of devices making up the IoT, the market is still in a nascent stage of development, Juniper points out. Connecting devices and integrating them with their systems is still the main priority for most large enterprise businesses.
"We're still at an early stage for IoT," commented research author Steffen Sorrell. "Knowing what information to gather, and how to integrate that into back office systems remains a huge challenge."
Competing IoT standards compound the difficulties of realizing value from IoT investments as they make for interoperability challenges that slow progress, Juniper continues. Recent signs of cooperation among backers of competing standards hold out promise of overcoming such hurdles, however.