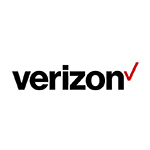 Verizon ranked highest in the six regions covered by J.D. Power in its most recent quality test. Indeed, if not for U.S. Cellular, the carrier came very close to making a clean sweep in the "J.D. Power 2019 U.S. Wireless Network Quality Performance Study—Vol. 2."
J.D. Power ranks carrier performance in six regions: Mid-Atlantic, North Central, Northeast, Southeast, Southwest and West. The research firm evaluates the network quality experienced by mobile phones, tablets, and other mobile broadband devices.
"Wireless carriers are making significant investments in their infrastructure as they get ready to start the broader rollout of 5G networks," Ian Greenblatt, the Managing Director of Technology, Media & Telecommunications Intelligence at J.D. Power, said in a press release. "Those continued investments are paying off in clear-cut quality improvement across all aspects of the wireless user experience, from phone calls to streaming media to app use, and it's happening on a nationwide basis with every brand in our study."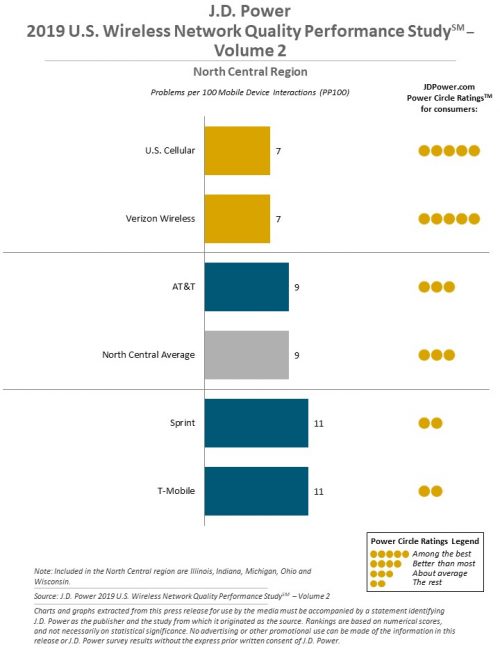 The key metric is the number of reported quality problems per 100 calls.
In the Mid-Atlantic Region, Verizon only had 7 while AT&T and T-Mobile had 9 and Sprint had 12.
In the North Central Region, U.S. Cellular and Verizon Wireless tied at 7, while AT&T had 9 and Sprint 11.
In the Northeast Region, Verizon led with 8, followed by T-Mobile at 9, AT&T at 11 and Sprint with 13.
In the Southeast Region, Verizon had 7, AT&T and T-Mobile had 10 and Sprint had 12.
In the Southwest Region, Verizon led with 7, T-Mobile had 10 and AT&T and Sprint had 11.
In the West Region, Verizon Wireless had 7, AT&T and T-Mobile each had 10 and Sprint had 13.
The study is based on responses from 33,401 wireless customers.
In February, J.D. Power found that T-Mobile had the highest level of customer care approval among the major wireless carriers. The average T-Mobile customer care rating was 833 on a 1,000-point scale. It was followed by Verizon Wireless (812) and AT&T (799). The segment average is 803.