Business telecom satisfaction is highest among large companies with 500 or more employees, according to new J.D. Power research.
While those companies had overall internet and telephone satisfaction levels of 815 on a 1,000-point scale, the average score for very small businesses with 19 employees or fewer was just 729.
In between were medium-size businesses, which had an average satisfaction score of 787, J.D. Power notes in a press release.
Service providers included in the report were the nation's largest telcos and largest cablecos – AT&T, Verizon, CenturyLink, Cox, Comcast and Charter.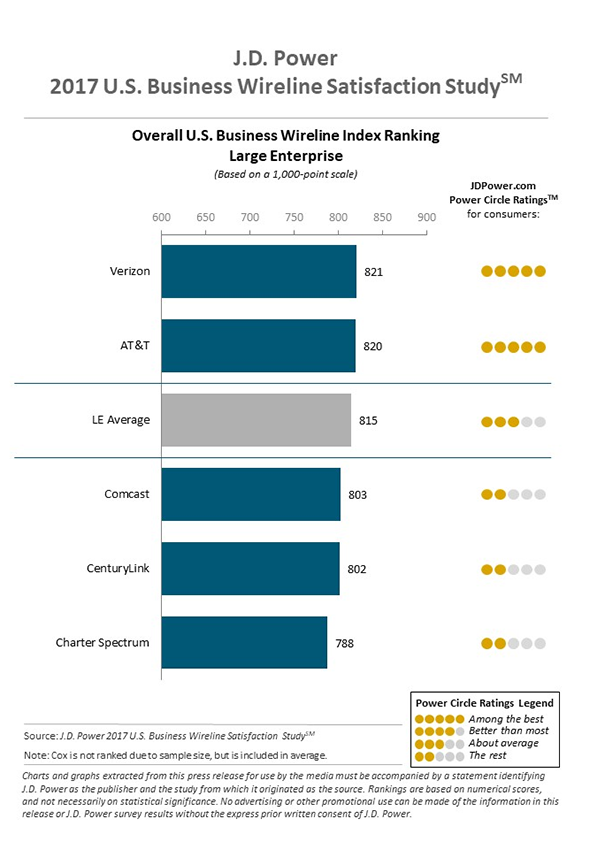 Business Telecom Satisfaction
Verizon exceeded the average satisfaction level and topped the rankings for all three categories of businesses – small, mid-size and large. The company's overall scores were 762, 816 and 821, respectively, for small, mid-size and large companies.
AT&T came in second place and exceeded the average score in the mid-size and large categories, with scores of 792 and 820, respectively. But Cox came in second among the smallest businesses, with a score of 744. AT&T followed at 730.
Cox was the only cableco to have a score above the average in any of the three categories. Among the telcos, CenturyLink also failed to have a score above the average in any category – a situation that company will want to address whenever its merger with Level 3 closes and the company becomes the most enterprise-focused of all the major service providers.
J.D. Power attributes the higher satisfaction level of the larger businesses to several factors, including higher satisfaction levels with communication, cost of service and customer service. Those companies with an account representative assigned to their business have notably higher overall satisfaction, researchers noted – and larger companies are more likely to have account representatives assigned to them.
Service providers in general have been emphasizing the business market in recent years and that emphasis seems to be yielding positive results. Scores for all the categories of companies were higher than for a similar study that J.D. Power conducted in 2015. Scores for 2015 were 783 for large companies, 747 for mid-size companies and 715 for small companies.
The business market has been a particularly strong focus for cable companies, which do not have wireless businesses but do have modern fiber network infrastructure. The J.D. Power results suggest cable companies still have a way to go in gaining business customers' loyalty and trust, however.
The J.D. Power results suggest opportunities for service providers that can excel at serving SMBs – and tier two service providers such as Windstream  and Frontier have been trying to do just that. It would be interesting to know what their satisfaction scores would have been among small and mid-size businesses, but tier two companies were not included in the report.