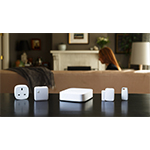 ITS Telecom, an independent telco serving rural Florida, recently launched what the company is calling Whole Home Wi-Fi, an offering aimed at providing coverage throughout customers' homes. That capability, in turn, will enable carrier smart home opportunities, explained Jeff Leslie, ITS Telecom CEO, in an interview.
"With all these devices coming out, you have to have Wi-Fi throughout the home," said Leslie. "If you will be able to stream live video, you obviously will need to have great strong Wi-Fi."
Carrier Smart Home Opportunities
ITS Telecom recently held a smart home open house for customers where the company demonstrated a wide range of smart devices.
"At the time, our only thought was 'Maybe we can sell faster broadband and Whole Home Wi-Fi,'" said Leslie. A key concern was that the company was not able to obtain smart home devices at wholesale prices and therefore would have had to charge more than what customers would pay at retail outlets for those devices.
What happened, however, was that "we started showing off products and they really got excited about it," Leslie recalled.
Particularly appealing to customers was a demo of voice controlled personal digital assistants, also known as voice controlled speakers, such as Google Home and Amazon Echo. The demo enabled customers to speak a command to turn Christmas tree lights on and off and to control a toy train.
"Evidently, it's a pain to find the on-off button or the plug to the Christmas tree lights," observed Leslie.
Also on view were smart doorbells, smart floodlights, smart thermostats, and other smart devices – and customers were interested in just about everything. In addition, customers said "We'd pay a little premium for you to install and [handle] set-up and help incorporate [smart devices] into our house," Leslie noted.
As a result, ITS is now putting a price list together and expects to launch a smart home offering in early 2018.
Asked if ITS's service area was on the wealthy side, Leslie said not at all. He noted, though, that ITS personnel at the open house also discussed with potential customers the possibility of purchasing streaming OTT video as an alternative to cable TV, thereby freeing up cash for smart home capabilities — and some customers were receptive to that idea.
Whole Home Wi-Fi
The ITS Telecom Whole Home Wi-Fi offering is based on the GigaCenter from Calix – an optical network terminal that also provides Wi-Fi connectivity and is designed to be remotely managed. By adding additional Wi-Fi repeaters, also from Calix, homeowners can get Wi-Fi coverage throughout their homes, Leslie explained.
ITS includes Wi-Fi as part of its broadband offering, but also offers a managed service that includes one repeater for $6.95 monthly. Many customers need just a single repeater to get coverage throughout the home, Leslie said.  But for those who need them, additional repeaters are $4.95 per month.
Additionally, as Leslie explained, customers "get the hand-holding of people they already trust." In contrast, those customers who purchase equivalent products from a retail outlet get virtually no support, he said.
A big advantage of having the repeaters is that homeowners now can install their own Wi-Fi, Leslie noted. In the past, ITS technicians went to the home to determine the best place for the GigaCenter, but that is not necessary when the repeaters are used.
The remote diagnostic capability of the GigaCenter also enables customer service representatives rather than technicians to troubleshoot most issues that end users encounter, Leslie noted.