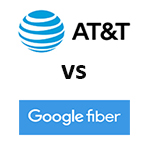 It's AT&T versus Google fiber in a mocking blog post from AT&T Senior Vice President for Wired and Wireless Products and Services Eric Boyer. Although Boyer never once mentions Google's name in the post, there's no doubt which Internet provider he is referring to in the post titled "Does the Unfulfilled Promise of an Internet Provider Leave You Searching for Another Option?"
Boyer makes his first jab in the opening paragraph, which is framed as a response to the question posed in the title.
"If so, don't be surprised," writes Boyer. "Making you search is what they do best."
Making you search. Get it?
AT&T Versus Google Fiber
After touting AT&T's gigabit broadband achievements and ambitions (45 markets to be launched by year-end) Boyer observes that "What some of our competitors are just starting to realize (one after only six years and only eight metros) is that this endeavor is challenging" – a veiled reference to Google's plan to halt its gigabit fiber-to-the-home (FTTH) expansion plans.
"Connecting customers at scale and investing capital today in the future of connectivity is a big deal," continues Boyer. "Expanding the availability of faster wired and wireless speeds begins with a conversation with cities and customers – not a checklist dictating terms."
Readers may recognize this as another Google reference – this time to the checklist of items with which the company has required cities to comply in order for Google to consider deploying its fiber service there.
Boyer tops off his rant against Google with a Dallas-versus-Mountain View kind of comment. "This is about good old-fashioned hard work, not new-age marketing promises that fall short in the end," he comments.
Whither Google?
It's worth noting, however, that without Google fiber, the U.S. likely would not have seen the flurry of gigabit deployments that we've experienced over the last few years. Despite Boyer's disparaging comments about the Google checklist, Google did break new ground in negotiating better terms with cities that helped to improve the economics of service provider deployments. Those improved economics – as well as the competitive threat from Google — helped spur companies like AT&T to undertake gigabit deployments.
It's also important not to count Google out moving forward. It's widely believed that the company is getting set to make the same sort of moves that it did with FTTH, but this time using broadband wireless.