Broadband populists threaten commercial network operators and ultimately broadband deployment, argues the Information Technology & Innovation Foundation in a report released yesterday. These broadband populists include the likes of law professor Susan Crawford, the New America Foundation and The Free Press, according to the report.
These entities are pursuing a range of policy objectives such as Net Neutrality, set-top box competition, broadband privacy, municipal broadband and others — which taken together, represent an attack on commercial network operators, the report argues.
"[P]opulists are motivated more by their visceral distrust of corporations than an empirical assessment of what industry structure best supports the goals most Americans want from ISPs: efficiency, innovation, quality, reasonable prices and adequate coverage," the report argues. "And by obscuring the real nature of the strategic debate at hand, policymakers may not foresee the long-term implications of individual tactical decisions."
ITIF calls itself an "independent, nonpartisan research and educational institute focusing on the intersection of technological innovation and public policy."
Broadband Populists
ITIF makes the brash statement that broadband populists advocate a "heavily regulated, utility-like industry at minimum and ideally a government-owned system, made up largely of municipally owned networks."
The likelihood of that ideal being reached would appear slim, considering that numerous states have passed legislation aimed at prohibiting or severely restricting municipally owned networks and an FCC challenge to such legislation has been rejected by an appeals court. It's true, however, that some entities – including some of those the authors call "broadband populists" — are seeking to regulate broadband more heavily.
Net Neutrality, business broadband and broadband privacy are just a few examples of that. The report authors argue that such regulations would erode today's lightly regulated environment, which they say has led to a strong broadband market and should be maintained.
The report challenges several assertions made by broadband populists in favor of heavier regulation. For example, the authors question broadband populists' argument that U.S. broadband prices are excessive because of monopoly power. They cite International Telecommunications Union data showing that the U.S. has consistently ranked as the third-best country for entry-level broadband prices, with low-speed broadband clocking in at 0.35 percent of gross national income per capita.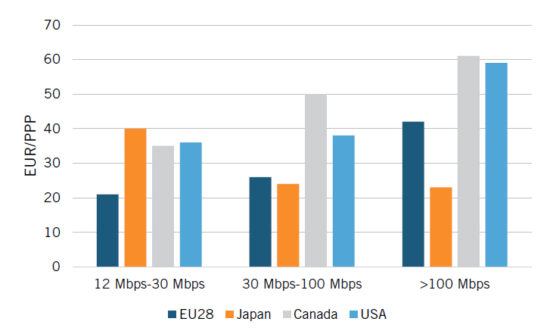 The authors also argue that the U.S. is not falling behind other nations in broadband deployment to the extent that broadband populists say. They argue that some such comparisons are based on advertised speeds – and while most U.S. broadband providers meet advertised speeds, that isn't true in some other countries, the report argues.
What Do You Think of These Arguments?
I suspect Telecompetitor readers will have a problem with some of ITIF's assertions about broadband populists.
For example, while acknowledging that broadband is an empowering technology that improves peoples' lives, the authors question the populist argument that broadband is a fundamental human right. That issue is still unsettled, the authors state.
The report also argues that gigabit connectivity is not needed in residential areas – an argument that may be true today, but which fails to take into consideration that the additional cost to offer gigabit is relatively low once fiber-to-the-premises has been deployed. The authors also question the argument that fiber is future-proof.
Perhaps of greatest concern to Telecompetitor readers, however, is the authors' argument that "[t]he digital divide is not a problem of deployment." To back up this argument, the authors argue that 96% of the population can get 10 Mbps service, 90% can get 25 Mbps service and 100% can get satellite service.
Those data points may be correct, but many would question whether the policies advocated in this paper can adequately meet the need for comparable broadband service between urban and rural markets, which could be interpreted as mandated by current law. Also, the implicit assumption that 10 Mbps or even 25 Mbps service is sufficient for today, not to mention over the long term, is a topic of hot debate.
Image courtesy of flickr user Sean MacEntee.