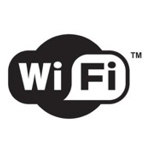 Wi-Fi's business model continues to be in a state of transition, along with 'where, how, and how often Wi-Fi is being used,' even as hotspots and usage continues to grow, according to new research from In-Stat. Viewing it as a "competitive differentiator" and an "enhancement to core services," broadband and wireless providers are the driving forces behind Wi-Fi growth on the supply side while on the demand side non-laptop Wi-Fi connections are fast approaching 50% of usage, according to In-Stat's, "Worldwide Wi-Fi Hotspot Usage Soars, but is Model Sustainable?" .
In-Stat's analysts forecast that annual growth in Wi-Fi hotspot venues will "remain strong over the next years, but it will begin to slow in later forecast years." Europe and the U.S. are the two largest Wi-Fi hotspot markets worldwide, with Europe making up 40% of worldwide venues this year. Airports "dwarf" all other venues in terms of hotspot usage on a per location basis, according to In-Stat's findings.
Free hotspot venue usage is undergoing a surge in growth, the report authors point out. That's a trend that they expect to continue, one that "may have the undesirable effect of overburdening these networks and degradation of the user experience," even as they attract customers into venues as intended. It also conditions Wi-Fi users to expect free service, they add. That's led free Wi-Fi hotspot providers, such as McDonalds and Starbucks, to find alternative ways to "monetize" the Wi-Fi experience. Advertising and e-commerce are two avenues being explored to that end.
Other factors contributing to the ongoing transition include wide-scale adoption of Wi-Fi enabled handsets and the blending of cellular and Wi-Fi service access; leading service providers' renewed promotions; a shift in payment models to a mix of free and bundled access; and the introduction of new applications, including mobile video and location services.