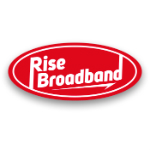 Rise Broadband issued a press release yesterday touting the $16.9 million it will receive through the FCC rural broadband experiment program.  The company plans to use broadband wireless to bring broadband to areas in price cap territories in Illinois, Iowa, Kansas, Nebraska and Texas – illustrating how some non-traditional providers could become the new equivalent of carriers of last resort as the FCC refocuses the traditional voice-focused Universal Service program to focus instead on a broadband-focused Connect America Fund.
Until recently, Rise Broadband was known as JAB Broadband, but the company, which has acquired multiple broadband wireless businesses in recent years, recently changed its name and began using the Rise brand to replace the various brand names that it has acquired. The FCC made the rural broadband experiment awards under a previous JAB brand name Skybeam. The commission announced last week that it had released Skybeam funding for parts of Illinois, Kansas and Texas after receiving required paperwork.
Rural Broadband Experiments
The rural broadband experiment program provided a total of $100 million in funding to carriers to cover some of the cost of bringing broadband to portions of price cap carrier territories where broadband is not currently available or is available only at low speeds. The goal was to gain information to help in shaping the competitive bidding process that will occur if incumbent price cap carriers decline to bring broadband to unserved portions of their territories at the level of support they have been offered based on an FCC cost model.
In the rural broadband experiment program, the FCC said it would award funding to the carriers that were able to provide service to the greatest number of people at the lowest cost. The commission also required carriers to bid to provide service for a lower level of support than what the incumbents were offered. Awards went to rate of return carriers from neighboring communities and to non-traditional carriers such as Skybeam and covered a range of landline and wireless technologies.
Both types of carriers are likely to bid in the competitive auctions that will occur for any areas where price cap carriers decline funding. Price cap carriers also will have the opportunity to bid, and will be able to target only a portion of their local service territory within a state.
If an area goes to auction and if the incumbent carrier does not win the auction, the incumbent will essentially be retreating from that area, and the winner will essentially be the new incumbent – although carrier of last resort obligations will likely be somewhat less strict than they traditionally have been for voice service. If, for example, a local resident decides to build a house in an extremely remote location not already included in the cost model, the carrier might not be required to bring broadband to the customer if the cost to deliver service exceeded a certain amount.
If the results from the rural broadband experiments are typical of what ultimately happens with areas that come up for auction and depending on the extent to which price cap carriers decline Connect America funding, the net result could be a substantially different carrier landscape than what exists today.
With this in mind, I'm sure companies like Rise Broadband as well as traditional rural carriers will be eagerly awaiting the price cap carriers' decisions – due later this month — on whether or not to accept Connect America funding.