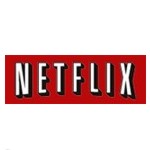 Netflix, the darling of the over-the-top video (OTT) world, has taken to rating ISPs, in the context of who's best for streaming their content, regularly now. Interestingly, cable broadband access networks are rating the highest, with Charter coming out on top.
I say interestingly because I find it ironic that the company which probably best embodies the 'cut-the-cable cord' threat, rates cable companies as the best enabler of that very threat. Of the top ten ISPs for best Netflix performance, seven of them are cable companies.
Verizon, the highest rated telco, comes in at number eight. Netflix admits that their rating system combines Verizon's FiOS and DSL networks together, negatively representing FiOS performance. They say that will change in future ratings, when they will be able to break out FiOS from DSL. The same can be said for AT&T U-Verse DSL versus plain vanilla AT&T DSL, which will also see some form of future separation.
When the FiOS break down is offered, it will be more representative of FTTH service, which I suspect will significantly close, if not surpass, the gap between telco/FTTH and cable broadband for these rankings. The many smaller FTTH providers who are not big enough to get on Netflix's radar could probably draw some of the same conclusions about their performance from future FiOS rankings.
Among the current worst rated ISPs is Frontier, which rates just above broadband wireless provider Clearwire for Netflix performance.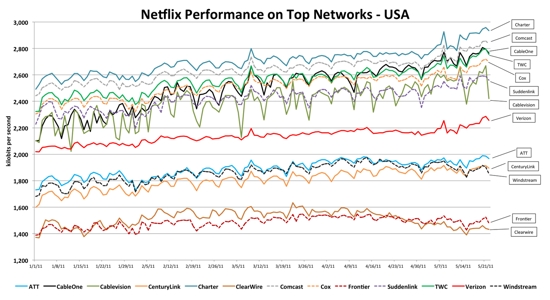 So, from an ISP perspective, is it a good thing to be rated high for Netflix? Given the popularity of Netflix, could a high rating be used as a competitive advantage? Maybe we'll begin to see some advertising campaigns touting Netflix performance, if they're not out there already.
I guess it depends on perspective. If your core or fastest growing business is monthly subscription video, would you want to encourage potential cord-cutting behavior by touting your good Netflix ranking? Even if you don't offer video, do you want to encourage bandwidth hogging behavior?
It's a challenging issue, because consumers have spoken, and they want Netflix. Yet Netflix creates challenges for broadband carriers, as discussed above. So do you embrace those customer demands, knowing there are potential negative implications in doing so? Lots of issues to sort out.
I read some interesting comments from Time Warner Cable (TWC) CEO Glenn Britt which adds some perspective to this debate. He says that the cable company TWC needs to begin putting more emphasis towards pursuing broadband only subscribers, recognizing that there is life beyond the triple play for TWC. "Broadband is becoming more and more central to people's lives," said Britt at a recent investor conference (as reported by the Wall Street Journal). "It has become our primary product. People are telling us that if they were down to their last dollar, they'd drop broadband last."
Since broadband is the end game, even for a video centric company like TWC, enabling the best broadband experience may win the day. Even if so doing encourages behavior which causes some pain. So, will you make it a goal to climb the Netflix performance ranking?