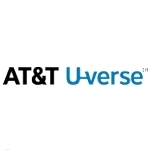 AT&T is the 800 lb gorilla relative to IPTV in the U.S. They are the market leader by a long shot, with over 2.3 million U-verse TV subscribers. They lead the next U.S. based IPTV provider, probably SureWest, by millions of subscribers. We obviously don't count Verizon FiOS in this comparison because technically speaking, they are not an IPTV provider,
What I found most interesting in AT&T's latest numbers is how IPTV has overtaken DBS resale in total video subscribers for the first time. Those 2.3 million IPTV subscribers outnumber their total DBS subscribers (which they offer through DirecTV resale now and DISH Network in the past) by 168K. Combined, AT&T counts 4.4 million video subscribers, as of 3/31/10.
Video subscriber growth is also headed in different directions.  AT&T actually lost 78K DBS subscribers over the past year, while they've added close to 1 million IPTV subscribers in the same timeframe. I assume the growing footprint of U-verse availability, now at 24 million units, impacts this data point.
Of course all of this may change if AT&T decides to try to buy DirecTV, as has been rumored for years. Many analysts believe that purchasing DirecTV is the only real way for AT&T to seriously compete in the video arena with cable MSO behemoths like Comcast, Time Warner Cable, and Cox.