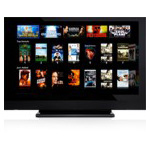 The young adult, 18-34 year old cohort is driving growth in paid viewing of online OTT video, and it's the one most attractive and compelling for service providers as they work to transition from a free-viewing, ad-supported model to one based on subscriptions, according to research released yesterday by Connecticut-based media market research firm Ipsos. More than half (51%) of 18-34 year olds were "interested" in viewing their regularly watched programs through a fee-based Hulu, Netflix or iTunes option," according to a press release.
Ipsos conducted a scenario "trade-off" analysis of OTT viewers in this key age group aiming to get a handle on their viewing and payment model preferences assuming that no free, ad-supported model was available, a development Ipsos sees as increasingly likely given OTT service providers push to "monetize their content." The set-up was this: after viewing numerous TV shows of different genres, the test subjects were given the choice of a $9 per month Netflix subscription or $1 per episode streaming.
The per stream payment model used by Apple and Hulu will continue to be the main growth driver for online OTT video viewing, Ipsos's researchers say. Netflix's "strong installed base," meanwhile, will continue "to get their streams bundled through a monthly subscription." A $1 per download stream with ad support from Hulu "rivals the Netflix monthly subscription and iTunes per stream options," Ipsos found. In contrast to outsiders Netflix and iTunes, Hulu is a joint venture of Fox and NBC with ABC owning 27% and Providence Equity Partners 19%.
"While Hulu has set a precedent for free post-airing streams with ad support, growth continues to be driven by the 18-34 year old audience as more post-broadcast content is moved into payment models such as monthly subscriptions and per download/stream fees," Brian Cruikshank, EVP at Ipsos OTX MediaCT, was quoted as saying.
"The young adult population clearly has an appetite for accessing their regularly watched shows and are willing to pay for that access. Further, the fee-based market is competitive with no dominant service."