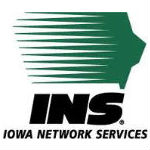 Iowa Network Services, owned by 122 small Iowa telcos, may be best known as the operator of a statewide fiber network. But in recent years the company has been diversifying – and the latest example of that strategy came this week with the announcement that INS has acquired professional employment organization (PEO) Merit Resources. Merit operations and management will not change, INS said.
As INS President and CEO Ron Keller explained in an interview, Merit Resources offers a range of outsourced human resource services to more than 400 small and medium enterprises in 40 states.  "In the aggregate it constitutes more than 11,000 work site employees," Keller said.
Working with Merit enables small and medium-size businesses to obtain better rates on services such as outsourced payroll, payroll tax administration, and employee benefits than the businesses would be able to negotiate on their own, explained Keller, who believes those service also will be attractive to the individual companies that own INS and to INS customers, including other small telcos and enterprises. Ultimately INS's individual telco owners may offer Merit services to their customer base, but that isn't part of initial plans, Keller said.
An important step in INS's diversification efforts was the company's acquisition of a majority share in IT firm Alliance Technologies five years ago. Alliance Technologies has 900 enterprise customers and is already a customer of Merit. Conversely, Merit already uses Alliance services.
Moving forward, Keller sees "wonderful cross-selling opportunities" between Merit and Alliance. "We will be aggressively looking at synergy opportunities," said Keller, who noted that some Merit customers have asked Merit about finding IT support for them.
Merit has seen steady double-digit annual growth and Keller said he believes impending healthcare reforms will spur more SMEs to use the services of a company like Merit. "With increased complexity in HR regulation and healthcare reform, small and medium enterprises will look at alternatives to mitigate increases in premiums," he said. "Access to a PEO is the last option that companies with less than 50 employees have to manage costs."