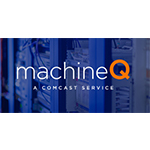 In a sign of the growing business for cable MSOs in the IoT segment, five companies have agreed to use the MachineQ offering, which is a business unit of Comcast. The companies will use MachineQ for asset tracking (Adveez), geo-location (CareBand), water infrastructure management (Neptune), facilities management (Pansofik) and pest control (Victor).
Comcast MachineQ
MachineQ is a platform and service that provides enterprises and businesses IoT services on a Low Power Wide-Area Network (LPWAN) platform. "IoT solution providers are seeking secure, reliable and highly scalable network connectivity, device management capabilities, and new IoT microservices, like geo-location, to speed their time-to-market, and our new customers have chosen MachineQ because it can be deployed across a wide range of different enterprise use cases," said Alex Khorram, general manager of MachineQ, in a press release. "We want IoT solution providers to know that we can handle their network needs, so they can focus on bringing their innovative solutions to market to the benefit of their end users."
Comcast is far from the only MSO that sees the upside of IoT network offerings. Indeed, it is not even the only MSO making news on that front this week. Cox Communications yesterday announced the Cox2M Internet of Things service. It is a turnkey offering that the company says will network almost any asset in any location and provide real-time intelligence and notifications on a range of issues.
IoT Momentum
Technical hurdles to wide networking of IoT devices are being addressed and companies are rushing into the field. Last month, AT&T and Ericsson joined to offer an IoT certification program for devices. The collaboration will feature testing, verification and "white glove" assistance with the regulatory approval process.
At least one research organization believes that NB-IoT has prevailed as the IoT networking platform of choice. ON World, according to IOT Business News, says that NB-IoT "has reached critical mass." The report says that the point at which it took control was the announcement by Verizon that it will build a nationwide network using the standard by the end of this year.
In January, T-Mobile launched Magenta, an NB-IoT-based platform for connection and coordination of IoT devices. It launched with a special offer of $6 per year for as much as 12 MB per connected device.
Another company opting for the NB-IoT approach is Dish Network. Last month, Dish said that it will spend between $500 million and $1 billion on the first phase of a network. That phase is expected to be completed by March 2020. The bulk of the money will be spent when construction starts in earnest next year, according to a story at Mobile World Live.