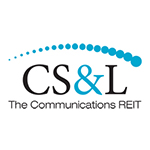 The $230 million CSAL Tower Cloud purchase announced yesterday should enhance CSAL's focus on dark fiber and on providing backhaul for cellular, and in particular, small cell networks. And the investment community seems to approve, judging by the value of CSAL's stock since the announcement.
Communications Sales & Leasing (CSAL) was spun off from Windstream last year as a communications real estate investment trust, which meant that its initial holdings were comprised largely of landline telco copper and fiber infrastructure. But earlier this year CSAL began to diversify its holdings with its purchase of PEG Bandwidth which, like Tower Cloud, is a fiber network operator with an emphasis on the wireless backhaul business.
Since then CSAL stock values, which declined after the spinoff, began to increase. CSAL's trading price reached a high that the company hasn't seen in over a year after yesterday's news – and remained in the same range today.
CSAL Tower Cloud Purchase Rationale
The CSAL Tower Cloud purchase will be "very complementary to our strategy of acquiring and building mission-critical communications infrastructure and becoming more and more relevant to the national wireless carriers in particular," said CSAL CEO Kenny Gunderman on a conference call with media and investors to announce the deal yesterday.
By combining fiber assets of Windstream, PEG and Tower Cloud, CSAL will be one of the largest owners of fiber in the U.S., Gunderman noted. And according to a slide presentation that accompanied the call, the various assets are geographically dispersed. (According to an FAQ list posted on the CSAL site, "triple net" refers to assets acquired from Windstream, which are leased to Windstream in a manner that requires Windstream to bear many of the costs associated with the property.)
All four of the national carriers buy cellsite connectivity from Tower Cloud, Gunderman said. He also noted that Tower Cloud has experience with small cells, which he said "are not a fad" but instead represent a trend.
Small cells, he said, will be "the next-generation of mission-critical tower deployment."
That's a stronger statement than some stakeholders would be willing to make, however. Just this morning, AT&T President of Technology Operations Bill Smith noted that macrocells are less costly to operate than small cells on a cost-per-bit basis. Small cells, he said, are good for solving capacity issues in "isolated or targeted" areas.
Financial details of the CSAL Tower Cloud purchase can be found in yesterday's announcement.