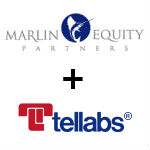 Investment firm Marlin Equity Partners said today that it has entered into a definitive merger agreement with telecom equipment manufacturer Tellabs. Marlin Equity Partners owns a variety of companies involved in the data center and software-as-a-service businesses.
According to a release issued today from the firm, the company is "excited to back the Tellabs team," viewing Tellabs' business as an "ideal opportunity to capitalize on the growth in the telecom network equipment sector."
Nick Kaiser, a partner with Marlin Equity Partners, said the firm is "committed to extending Tellabs' market leadership" and would continue to make "significant investments in research and development."
A release issued today from Tellabs notes that the company contacted more than 30 potential buyers, including "strategic parties" and "financial sponsors" as part of a competitive bidding process.  Marlin's offer represents a premium of 4.3% over Tellabs' closing share price as of Friday and 13.5% over the 180-day volume-weighted average closing share price as of the same day, Tellabs said.  After the sale, Tellabs will no longer be a publicly traded company.
A Tellabs spokesman said the decision to consider a sale of the company came after the company's board of directors conducted a thorough review of the company's strategic alternatives.
Tellabs has several key lines of business, including mobile backhaul, packet optical, optical LAN and services.
"We hear interest in all of our businesses from Marlin," the Tellabs spokesman said. He added, however, that "We have not begun planning product level detail with Marlin."
As for any potential staff cuts, the spokesman said, "Tellabs will continue to implement previously announced restructurings. After the transaction those decisions would be up to Marlin. We have not begun planning at that level of detail with Marlin."