Press Release
04.02.2019 — NEW YORK – What's the appropriate age for children to get their first smartphone? The answer is a challenging one. Kids are clamoring to get smartphones earlier and earlier, and parents are leery about giving their kids a phone that could expose them to things they're not ready for. Starting Thursday, Verizon is making it easier for families to call a technology truce with the introduction of Just Kids, the first plan from a major wireless provider designed to meet the needs of both parents and kids.
Just Kids is a new mix and match plan that gives parents peace of mind and includes Verizon's industry-leading suite of comprehensive parental controls – Verizon Smart Family Premium (a $9.99 per month value). That means parents can easily keep track of where their kids are, limit how much time is spent online and set content filters in one easy app. The plan also includes 5GB of 4G LTE data and unlimited talk and text to 20 parent-defined contacts. With Just Kids, parents won't have to worry about paying an overage as Safety Mode comes automatically enabled.
"At Verizon, we take pride in being a true partner to parents by providing them with products and services designed to meet their needs in an ever-evolving and often confusing technology landscape," said Angie Klein, vice president of marketing at Verizon. "With Just Kids, we're leading the way on growing up with tech, providing parents with plan options and features that give them the peace of mind they need for safe and responsible phone usage."
The Just Kids plan is a great value. At Verizon, you can mix and match plans to make sure everyone in the family gets the plan they need on the network they deserve. If you have three of our latest unlimited lines on the account, adding one line on Just Kids can be as low as $5 more per month, when enrolled in Auto Pay, plus taxes and fees. To get Just Kids, at least one line on the account needs to be on Go Unlimited, Beyond Unlimited or Above Unlimited. You can manage your account and change plans anytime through the My Verizon app.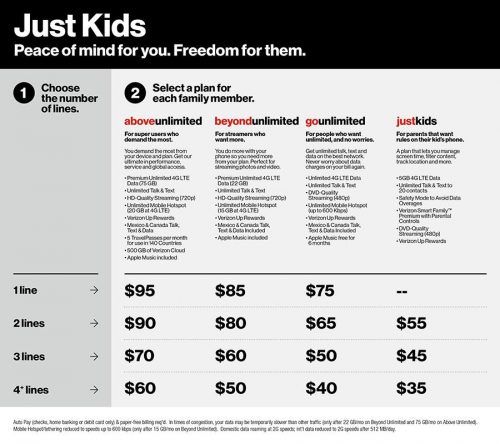 For parents looking for the perfect first phone to go with the Just Kids plan, Verizon offers a broad selection of smartphones to fit your needs – including the Samsung J3 V* free. Want to give your child one of your old phones to use? Verizon will give you $250 as part of our Bring Your Own Device program when you switch or activate a new line.
Your partner in parenting in a digital world
As a founding member of the Family Online Safety Institute, Verizon is committed to making the online world safer for kids and families by providing parents with the tools and resources they need to navigate their family's digital life. When buying a phone or device for your child, FOSI recommends utilizing a Family Online Safety Agreement to establish ground rules for safer and more responsible use of technology. FOSI's website offers a number of resources for parents, including the "7 Steps to Good Digital Parenting."
"The launch of Just Kids is a timely response to the true needs of parents raising connected children," said Stephen Balkam, FOSI CEO. "As the digital world continues to change and expand, we are pleased to partner with Verizon to uphold their commitment to online safety by tailoring programs and products to reflect what families need the most."
Growing up with Verizon
With the addition of Just Kids, Verizon has the products, solutions and plans you need to help your family stay connected safely and responsibly at every stage of your digital journey.
To learn more about products and solutions for families at Verizon, visit verizonwireless.com/family-tech/.