Internet2 is undertaking an infrastructure upgrade across the United States aimed at "enabling scientific collaboration on a greater scale" and on-demand cloud connectivity while cutting carbon emissions.
The research and education network will use Cisco 8201 and 8202 routers in 48 locations across the U.S. One to four devices will be installed in each location with the goal of connecting national backbone resources with regional networks. A typical node has 24 to 96 400G network access ports.
"With some intercity routes topping 1.2 terabits per second, Internet2's network infrastructure between the East and West coasts will feature multiple contiguous routes equipped with 800 gigabits per second of bandwidth," Internet2 explained in a press release. "This will provide abundant headroom to support big data research across disciplines, including the Large Hadron Collider, infectious disease research among academic medical centers, and access to global genomics databases."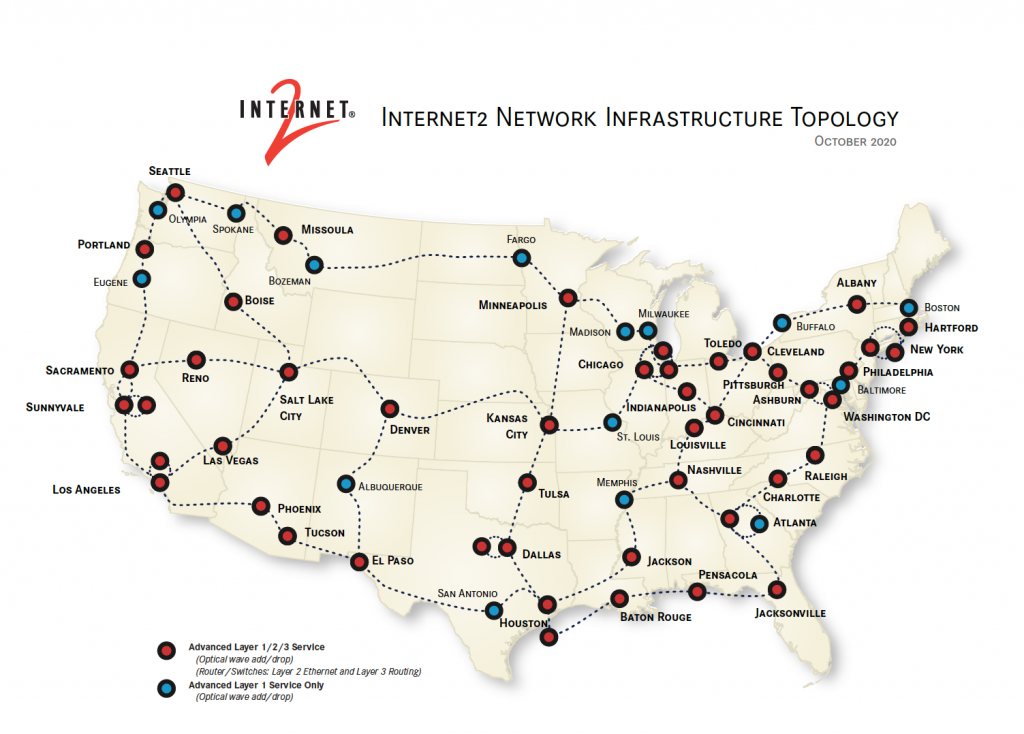 Other elements of the Internet2 upgrade:
Cisco Network Services Orchestration (NSO) will be the foundation of an extensible network-wide automation platform. It will immediately deliver Internet2 services with the eventual capability to eventually support campus to regional to national to cloud service orchestration.
Cities will be interconnected via 400G wavelengths on Internet2's network and deliver Nx400G capacity.
Multiprotocol label switching with segment routing (SR-MPLS) and Ethernet virtual private network (EVPN) will enable applications to claim an entire 400G link if necessary. Other users will be dynamically moved to other paths.
The selection process was conducted by the Internet2 Next Generation Infrastructure (NGI) program. "Research and education networks have never been more critical than they are today, and the selection of Cisco is a very exciting and critical milestone for the R&E community," Internet2 President and CEO Howard Pfeffer said in a press release. "Cisco is supporting the delivery of a software-driven infrastructure that enables rapid deployment of new services and tight integration with applications and scientific workflows on the campus and in the cloud, both of which are essential to our nation's future."
While network capacity will increased by four to 12 times, the upgrade is expected to reduce carbon use by 668 metric tons annually.
In December, 2018 Internet2 said that it would work with Amazon Web Services, Google Cloud and potentially other cloud service providers on the Exploring Cloud for Acceleration of Science (E-CAS) initiative, which is supported by the National Science Foundation.
Internet2 was founded in 1996 as an advanced technology community serving the nation's institutions of higher education. It now serves 323 U.S. universities, 60 government agencies, 43 regional and state education networks and other entities.
Joan Engebretson contributed to this report.