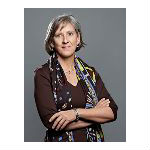 Mary Meeker is a financial analyst focused on technology who has a reputation for being one of the first to spot new opportunities. Not surprisingly a 100+-slide deck released this week that comprises Meeker's 2013 Internet Trends Report is generating a lot of buzz.
Meeker, who is currently with Kleiner Perkins Caulfield Byers, created the report with colleague Liang Wu.
I scanned through the deck and pulled out some of the highlights:
Illustrating the potential in the connected car market, Meeker and Wu noted that 13% of usage of streaming music service Pandora occurs in cars – up from almost zero in 2009. Use of Pandora on other mobile devices also is on the rise, now representing more than 60% of total usage – up from between 10% and 15% in 2009.
The authors highlight several Internet entrepreneurs they see turning their passion into a business, including David Finocchio of the BleacherReport, Otis Chandler of Goodreads, Daniel Elk of Spotify, Georg Petschnigg of Fiftythree, Ben Silberman of Pinterest, Alex Ljung and Eric Wahiforss of SoundCloud, Chris Altcheck and Jake Horowitz of PolicyMic, Ben Kaufman of Quirky and Adi Tatarko and Alon Cohen of Houzz.
Massively Open Online Courses (MOOCS) also are seeing strong growth. iTunesU saw 60 million downloads in July 2012 – up from zero in 2008. Of these, 25% were in the U.S., 16% in China and 13% in the U.K., with 46% going to other parts of the world. (BTW, Ethernet visionary Bob Metcalfe also is very enthusiastic about MOOCS.)
It was interesting to read the KPCB report the same day that the GSMA released a report showing the U.S. ahead of Europe on wireless deployment and technology because the KPCB report notes some similar trends:
Eight of the top ten Internet properties are U.S. based – including Google, Microsoft, Facebook, Yahoo, Wikipedia, Amazon, Apple and Glam Media. The only two non-U.S. based properties in the top 10 are Tencent and Baidu.com. All of these sites have more than 200 million unique visitors per month. The top site – Google – has more than 1 billion.
The U.S. also dominates the global market for smartphone operating systems, with 90% of units shipped in 2012 using either iOS, Android or Windows Phone. That's a big change from 2005 when Nokia, Linux and BlackBerry OS – all developed outside the U.S. – dominated the smartphone operating system market.
The report suggests, however, that for the U.S. to maintain its high-tech edge, it needs to re-consider its educational priorities and immigration policies.  Among the report's observations:
The number of job openings requiring a computer science degree will exceed the number of people with that degree by a factor of 2.4.
Highly skilled immigrants are only 1% of the U.S. population
The U.S. is sending more qualified international students home after graduation than in the past.
The top 5 high-tech firms currently have 10,000 job openings in the U.S.