USAC released its interactive online map displaying the impact the Connect America Fund (CAF) program has had on in rural America. The CAF map shows where carriers that receive CAF support have deployed high-speed Internet service, based on information filed by the carriers.
The CAF program was designed to ensure that consumers in rural, underserved areas have modern communications networks and services access. CAF is designed to offer funding support to broadband carriers who can deliver fixed and mobile voice and broadband services to high-cost areas, ensuring rates there are comparable to those found in urban areas.
The CAF Map
The CAF Map displays the geographic areas that are eligible for CAF support and the specific fixed locations where carriers participating in the program have deployed broadband services.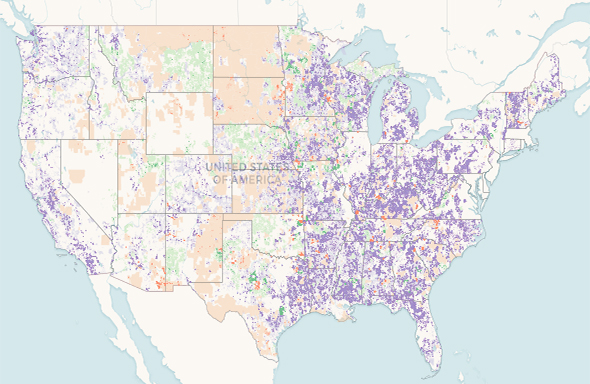 The map shows broadband deployment as of the end of last year.
As the FCC explains in a public notice, there are four CAF programs:
Connect America Fund Phase II, which provides funding to "price cap carriers" based on a cost model to build broadband to a specific number of fixed, eligible locations. Moving forward some other carriers will be deploying service to some price territories where the incumbent carrier declined to deploy broadband at the level of support offered. Those funds were recently awarded through an auction.
Alternative Connect America Cost Model (ACAM), which provides funding to certain smaller phone companies that accepted support to build broadband to a specific number of fixed, eligible locations.
Connect America Fund-Broadband Loop Support (CAF-BLS), which funds other smaller phone companies known as "rate-of-return carriers" based on a carrier's costs and other financial data. This fund requires carriers that hadn't met certain thresholds to build broadband to a specific number of fixed, eligible locations.

The Alaska Plan, which funds rate-of-return carriers to build broadband to fixed locations in rural and remote parts of Alaska.
The news about the map comes at a time when some parties are questioning how the FCC determined which areas of the country are underserved. Some people argue that the FCC underestimated the number of people who cannot get high-speed broadband service today.
Image courtesy of flickr user Sean MacEntee.