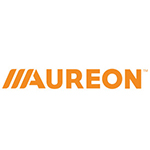 A new brand for a familiar name was announced yesterday, as INS rebrands to Aureon. Iowa Network Services (INS) announced the rebrand as part of a broader restructuring that will bring all of their subsidiary companies under one name and corporate structure. INS had assembled a number of independent companies, including Alliance Technologies, Alliance Connect, Merit Resources, Caleris and Portico Staffing, They will now all become a part of Aureon.
"After 27 years of growing INS from a company built to serve the Iowa Independent Telecommunications Companies to a diverse house of brands offering multiple support solutions, Aureon represents the next step in our evolution and direction," says Ron Keller, CEO of Aureon in a press release. "There is a tremendous amount of value in being able to offer all of these services under one roof, while leveraging the experienced people and individuality that made each company unique."
INS Rebrands to Aureon
INS was one of the earliest regional networks formed and owned by independent telcos to aggregate network functions. Equal access for long distance was the catalyst, but that morphed into much more, including a regional fiber network that interconnected rural Iowa. The INS model has been replicated in many other states and regions.
Over time, INS branched out into many more lines of business. It was one of the first examples of a regional headend for IPTV for example. INS also purchased a variety of companies from a call center to an HR outsourcing firm.
"The rebrand is the positive outcome of the company's broadening footprint in the business support services field, which they've expanded in recent years to encompass a variety of Technology, HR and Contact Center services," the press release announcing the rebrand outlines. "It is the culmination of years of strategic planning and diversification that was fueled by the growing demand for outsourced business solutions that address the complexity and importance of back office functions."
Aureon will now have three divisions – Aureon Technology,  Aureon HR, and Aureon Contact Center. The new firm, with 600+ employees, recently moved into a new headquarters facility in West Des Moines, Iowa.