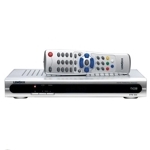 Revenue in the global set-top box (STB) market declined 3 percent to $4.8 billion in the seasonally slow first quarter, but there was "a pocket of strength" in North America. Looking ahead to 2014 as a whole, demand for over-the-top (OTT) media servers from service providers in China and other emerging markets should lead to an overall increase in STB unit shipments, according to a new report from Infonetics Research.
"[N]orth American cable operators stepped up spending again on top of successive sequential revenue increases as they transitioned higher-end multi-play subscribers to headed and headless video gateways and replaced aging, power-hungry standard-definition boxes with more efficient high-definition boxes," Infonetics principal analyst for Broadband Access and Pay-TV Jeff Heynen elaborated in a company press release.
OTT Media Servers for Streaming TV
Looking out to year-end, Heynen added, "A boost in overall STB unit shipments this year will come from an increase in over-the-top (OTT) media servers as service providers in China and other emerging markets use these devices to deliver live streaming TV."
Other key takeaways from Infonetics' "Set-top Boxes and Pay TV Providers" report include:
Cable STBs were the only segment to see unit and revenue growth in 1Q14, each up 5%;
Arris finished 1Q14 as the STB market share leader for the 3rd consecutive quarter, benefiting from the high-definition (HD) cable STB refresh cycle underway at North American cable operators;
North America today commands the largest portion of STB revenue, but Asia Pacific is projected to close to within 3 percentage points by 2018, driven by a penetration of advanced services such as HD and OTT, which will set in motion an upgrade cycle;
Infonetics forecasts the OTT media server segment to grow from 6% of global STB revenue in 1Q14 to 14% by 2018.