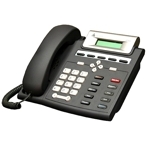 Revenues for the enterprise PBX and UC (Unified Communications) markets headed in opposite directions in 2Q 2014, according to a new report from Infonetics Research. Enterprise PBX revenues fell six percent while those for UC rose 31 percent from a year ago.
2Q 2014 worldwide enterprise PBX revenue totaled $1.69 billion while that for enterprise UC totaled $207 million, Infonetics highlights in its latest quarterly "Enterprise Unified Communications and Voice Equipment Report." Infonetics tracks PBX phone systems, voice-over-IP (VoIP) gateways, UC applications and IP phones in its report series.
Enterprise UC Revenues
"The trends we reported on the enterprise telephony market in the first quarter of 2014 carried over into the second quarter, with the PBX market continuing to take hits as businesses evaluate cloud alternatives and hold onto existing solutions while investing in unified communications (UC) applications," Diane Myers, principal analyst for VoIP, UC, and IMS at Infonetics Research, was quoted in a press release.
"UC applications once again proved their resiliency, with worldwide revenue increasing 31% in the second quarter of 2014 over the year-ago quarter as the demand for tools to provide increased productivity and employee flexibility continues to fuel growth."
Other key takeaways from the report include:
Globally, PBX revenue (TDM, hybrid, pure IP) sank 6% year-over-year in 2Q14 and is nearly flat (-1%) sequentially;
Enterprise spending remains conservative overall, with low priority being given to telephony upgrades and expansion on the premises side;
2Q14 PBX line shipments are down 3% from the year-ago quarter;
Unit shipments of IP deskphones grew 4% in 2Q14 from 1Q14;
Asia Pacific posted solid year-over-year PBX revenue growth in 2Q14, while North America had the toughest quarter of any region;
The leading vendor in the unified communications market, Microsoft, continues to grow on the telephony front and was 1 of only 3 vendors to post year-over-year PBX revenue growth (+4%) in 2Q14.