Wabash Heartland Innovation Network (WHIN), a consortium of 10 Indiana counties, said this week that it will deploy an internet of things (IoT) network covering thousands of square miles with the goal of fostering economic growth in the area.
Potential applications for the technology include smart agriculture and smart manufacturing.
Telecompetitor talked with Bruce Chatterley, CEO of Senet, which is working with WHIN on the deployment, about the project, which will use LoRaWAN communications. Senet is a provider of cloud-based software to manage LoRaWAN networks. Through that cloud, IoT applications can reach clouds supporting those applications via application programming interfaces (APIs).
The WHIN Consortium Vision
"They think of the network as a research network" said Chatterley about WHIN.
Purdue University and Ivy Tech Community College already have established smart agriculture and smart manufacturing IoT testbeds with WHIN. Longer term, the goal is for farms and businesses in the area to use the WHIN network to support IoT applications.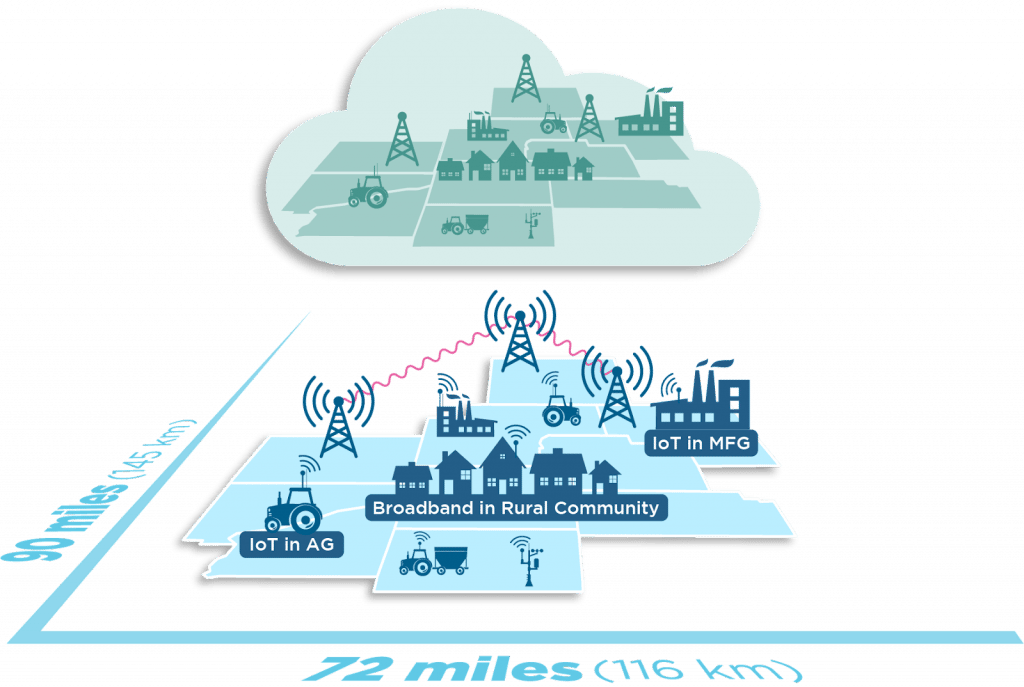 What should help the feasibility of the IoT network investment is that Senet also will be able to use it. Senet operates LoRaWAN infrastructure of its own around the country and has agreements with other LoRaWAN networks to use their networks and to share in the revenue that Senet generates from those networks. The agreement with WHIN includes a similar provision.
LoRaWAN
LoRaWAN technology is well suited for IoT applications requiring relatively low bandwidth, Chatterley explained.
In the U.S., LoRaWAN operates in unlicensed spectrum between 865–867 MHz. That's considered low-frequency, or low-band, spectrum, which supports excellent coverage and propagation but relatively low bandwidth.
Distances covered can be several miles and transmissions can penetrate cinder block. Speeds are in the range of 0.3 kbit/s and 27 kbit/s, according to Wikipedia.
Among the smart agriculture applications that LoRaWAN has supported are soil, moisture and sunlight monitoring, smart irrigation and tank monitoring. And AT&T has used the technology to support an innovative application in which dairy cows swallow sensors that track each cow's health.
LoRaWAN is less costly than IoT communications based on cellular technology, including NB-IoT and CatM1, Chatterley said. Other LoRaWAN advantages include longer battery life and the ability to easily expand the network by installing gateways at a customer location.
Chatterley noted that LoRaWAN isn't the right technology for every IoT application. Those requiring two-way high-bandwidth communications, such as autonomous vehicles, are better served using cellular technology, he said.
Certain smart agriculture applications, such as those controlling tractors and others that Telecompetitor has covered, including those involving robotics, are essentially autonomous vehicle applications and are often supported by cellular technology, sometimes involving private wireless.
IoT for Economic Development
The WHIN network is an interesting approach to economic development. In some ways, it's quite similar to what the municipally owned power company EPB did in Chattanooga when it deployed gigabit broadband throughout the city over 10 years ago.
At the time, that was an unprecedented move and as a result, the city was successful in attracting businesses requiring exceptionally high bandwidth. Indeed, the project was so successful that it triggered broader gigabit deployments and awakened other municipalities to broadband's potential to spur economic development.
The WHIN network offers a different twist on the same concept. The IoT network that the consortium is building has the potential to attract companies interested in developing IoT applications. And WHIN apparently isn't restricting its efforts to LoRaWAN. The consortium also has a pilot project underway involving private LTE.