The state of Indiana awarded $842,800 to six providers to bring broadband to 216 addresses this week. The funding came through the fifth round in the state's Indiana Connectivity Program.
The biggest award made in this round was for $325,000 to PSC Fiber, which is part of rural local exchange carrier (RLEC) Perry-Spencer Communications, for buildouts to 97 locations. The next biggest award was for $244,800 to Miami-Cass REMC for buildouts to 51 locations.
One other RLEC—Mulberry Telecommunications—won $137,000 in funding for 29 locations. Two other rural electric membership corporations—Johnson County REMC and South Central Indiana REMC—won $41,200 and 28,000, respectively.
In addition, competitive provider Joink won $66,500 for buildouts to 14 addresses.
Charter Communications, which won funding in previous rounds of the program, bid to provide service to nine locations but did not win anything in this round.
The winners collectively will invest an additional $1.4 million in the round five builds for a total investment of more than $2.2 million.
Broadband providers must complete their projects within nine months of the contract date, according to a press release.
Funded locations are in the south and north/central part of the state.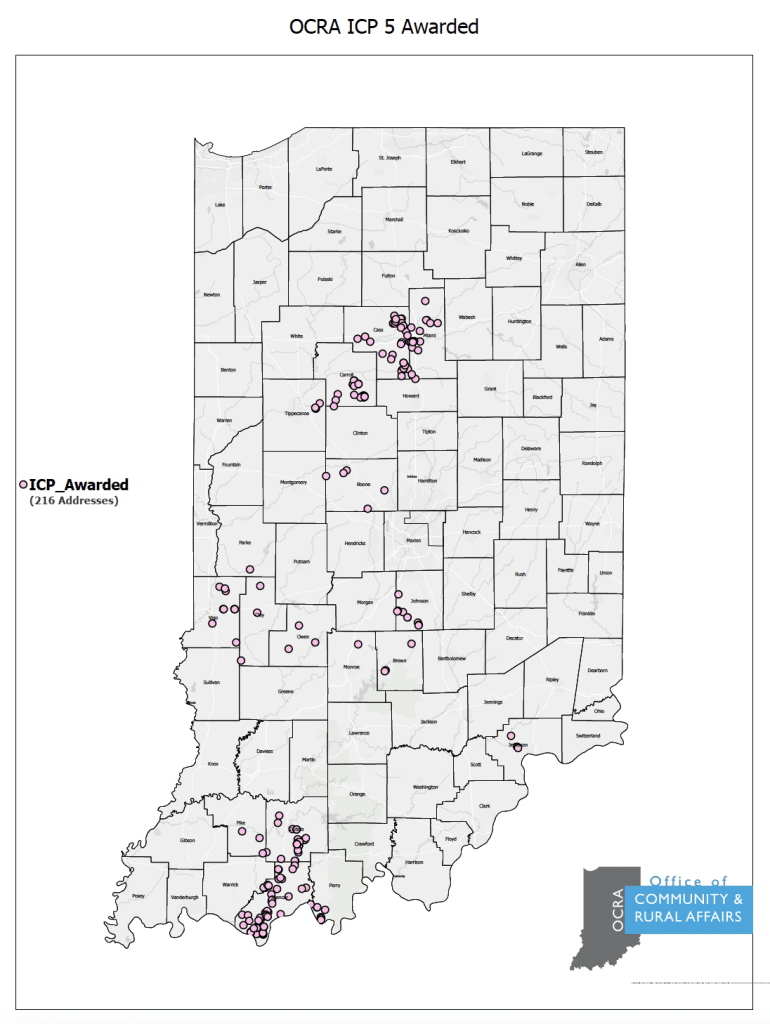 Indiana Broadband Program
The Indiana Connectivity Program is administered by the Indiana Office of Community & Rural Affairs (OCRA). The program uses a rather unique approach to identifying locations eligible for funding.
Owners of residential and business locations that lack access to service at speeds of 25 Mbps downstream and 3 Mbps upstream can apply for consideration by entering information into a portal. After a challenge process, service providers have the opportunity to bid to provide service to those locations.
OCRA then makes awards to the providers "whose bid presents the lowest cost per Mbps to the state for extension of the service," an OCRA web page explains.
The approach that Indiana uses to identifying eligible locations would seem to make sense at a time when stakeholders continue to question the accuracy of FCC broadband availability data.
Providers currently can bid on eligible locations in the sixth round of funding in the program. Bids are due June 2 and awards are expected to be made later in June or in July.