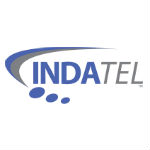 INDATEL, a consortium of state and regional fiber networks, used this week's Comptel Plus meeting and their 10 year anniversary to rebrand and coalesce around their ongoing mission of leveraging their members' networks into a national fiber network presence with the best reach into rural markets. INDATEL started as the trade association INDATELgroup and eventually formed an LLC subsidiary, INDATEL Services. They are now a single organization, INDATEL, with a new look and logo.
"At our core, we still have an association mission, but we're looking to add more value add services for both our members and our members' customers," said Max Huffman, INDATEL's Executive Director/COO in an interview at this week's Comptel Plus meeting in Orlando. INDATEL has long been an active sponsor and participant of Comptel, given INDATEL's mission of marketing their members' state and regional fiber network connectivity to other carriers and enterprise customers.
A Network of Networks
INDATEL connects a significant amount of network assets, all of which are independently owned by its members. INDATEL counts 28 networks across 24 states, with ties to over 500 RLECs as the core of its "network of networks." Their collective 70K route miles of fiber connectivity has reach into over 5,000 communities, with POPs in 52 tier one markets.  Within that network of networks, there are multiple data centers and access tandems, providing in demand capabilities for their members' carrier and enterprise customers.
Growing Business Opportunities
Huffman sees Ethernet connectivity, wireless backhaul, and CDN peering as the most immediate promising applications for INDATEL. "The network is fully interconnected, so we can do Ethernet connectivity across the entire network,' he said. "The network is easily multiple 10G capable today, rapidly moving towards 100G backbone capability."
Huffman is also particularly enthused with INDATEL's CDN efforts. Through a Chicago peering point, INDATEL's CDN relationships include multiple "big name" video partners. "Our CDN efforts take video delivery down to one or two network hops, where previously the average was eight," Huffman said. "We can remove anywhere from 40% to 65% of our members' IP transit traffic off their transport network with our CDN, most of which is video traffic."
INDATEL is also acting as a master point of contact for their many member networks for national and regional opportunities, particularly with wireless backhaul. That's been a key selling point of INDATEL from the beginning, Huffman says. "We have the best 'national' network with rural reach of any network in the country."