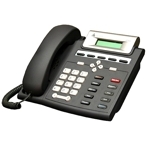 Small businesses, those with anywhere from 5 to 99 employees, will spend nearly $16 billion on wireline voice services by 2015, nearly half the forecast total, according to In-Stat's, "US Business Spending by Size of Business and Vertical: 2010-2015: Wireline Voice Services."
"Wireline voice, although not growing in any significant way, is holding steady across all sizes of business," says In-Stat's Greg Potter. "One service segment we see that could be vulnerable due to alternative technologies like VoIP, is international long distance services. Even though the total dollar spend remains high, we see negative growth over the forecast period."
Among In-Stat's latest research findings:
The hospitality and food industry will spend the most on wireline voice during the forecast period, nearly $2 billion by 2012.
Toll-free service spending will increase $134 million over the 5-year period.
Government enterprise spending on wireline voice will reach $4.7 billion by 2015.
Small office-home offices (SOHO), those with 1-4 employees, will spend $267 million on other services come 2015, including audio-conferencing, outbound calling services, and pre- paid calling.