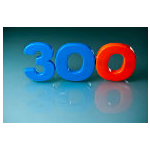 There are several consumer broadband offers in the 1 Gbps range. A few municipal broadband providers, including Chattanooga's EPB offer the ultra fast broadband tier. Residents in Kansas City will soon have access to this luxury via Google Fiber. But in a broader context, it appears that a 300 Mbps tier is the latest broadband speed 'bogey' to aspire to, at least for large tier 1 ISPs . Seems like just yesterday when 100 Mbps was the bogey.
Verizon lead the pack among these carriers with the launch of FiOS Quantum, touting its ability to serve the growing number of broadband-consuming devices of the digital home and the growing appetite for OTT video as justification for such a high speed offer. Comcast soon followed, topping Verizon with a 305 Mbps offer that will soon be available. Today DSLReports.com reports that Charter may soon follow suit with a 300 Mbps tier of their own. That would equal three tier 1 providers offering a 300 Mbps tier, potentially providing coverage for these new ultra high speed Internet offers to millions of households.
Average U.S. Broadband Speed is 6.7 Mbps
We can argue that these ultra high speed offers are more about bragging rights than customer demand. There is little evidence for significant demand for these ultra high speed offers. And considering that the average broadband connection in the U.S. now hovers around 6.7 Mbps (at least according to Akamai), are these 300 Mbps offers overkill?
Maybe. But there is no denying that as ISPs continue to increase their top speed offers, the more important (at least as it relates to subscriber counts) mid and low end tiers also get a bump up, creating a broadband speed inflation effect. When Verizon and Comcast both introduced their 300 Mbps tiers, they also increased their lower tiers, often at no additional cost.
Comcast broadband customers in markets where they introduce Comcast Platinum, their 305 Mbps offer, will see their existing 25 Mbps and 50 Mbps tiers increase to 50 Mbps and 105 Mbps respectively, at no additional cost. Verizon made similar moves, but included some minor price adjustments. The rising tide of ultra fast broadband speeds is raising the speeds of all broadband tiers, at least for these tier 1 companies.
Implications for DSL Networks
An interesting side note. Most if not all of this ultra broadband activity resides with FTTH or DOCSIS 3.0 enabled networks, leaving DSL networks to watch from the sideline. AT&T's DSL powered U-verse tops out at 24 Mbps, at least for now. Given that the average broadband speed in the U.S. is 6.7 Mbps, DSL providers seem quite capable of meeting the current demand. But as these speeds continue to rise, DSL providers will have some decisions to make. Will we see new technologies like vectoring come to DSL's rescue in any meaningful way?
Image courtesy of flickr user Micah Taylor.