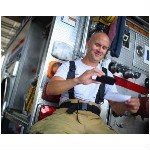 T-Mobile said yesterday that it has begun offering free mobile service to first responders at no charge for 10 years as part of the Connecting Heroes program that the company pledged to offer if its plan to merge with Sprint was approved.
In a video announcing the offer, T-Mobile CEO Mike Sievert noted that first responders "put their lives on the line" and "need wireless to be most effective in their jobs" but "face enormous budget pressures." He chided AT&T and Verizon for treating first responders as "just another group to be segmented and marketed to and monetized."
"We're not going to sell to our nation's first responders," Sievert said. "We're going to serve them – for free."
T-Mobile also noted in a press release that first responders will be able to use the company's nationwide 5G network, which according to the company, covers eight times the area that AT&T's 5G network covers and 28,000 times the area that Verizon's 5G network covers.
[embedyt] https://www.youtube.com/watch?v=ri4TO9oLgyA[/embedyt]
T-Mobile Connecting Heroes Vs. FirstNet
Verizon traditionally had the lion's share of the first responder market, but AT&T has made major inroads since winning the contract and spectrum to build a dedicated first responder network known as FirstNet.
The FirstNet network has many advanced capabilities that T-Mobile would appear unable to match. For example, although regular AT&T customers can use FirstNet spectrum when it is not in use by first responders, the first responders can pre-empt commercial traffic when they need the spectrum. When T-Mobile Connecting Heroes plans were announced last year, the company said first responders would always have the highest priority of any plan on T-Mobile's network, but that doesn't appear to be the same as saying other traffic would be pre-empted if needed.
FirstNet also has its own dedicated core network, which supports some unique capabilities available only to FirstNet subscribers such as additional priority levels and an incident management portal, which enables authorized users to reassign priority levels and give priority to non-public safety users such as utility or transportation companies when appropriate. Additional capabilities are expected to be added in the future.
The question for first responders will be whether those capabilities are worth paying for when T-Mobile Connecting Heroes provides 10 years of free service. According to T-Mobile, that could save first responders up to $7 billion over the 10-year period.
Jason Porter, AT&T senior vice president for the FirstNet program, said in an email to Telecompetitor: "We are proud to work with the public safety community to build a network dedicated specifically to them when they need it, and one that always puts them first. Early in the COVID-19 fight, FirstNet launched free smartphones for life for first responder agencies and those free devices are more important than ever now on their truly unlimited plans.  FirstNet doesn't block, or throttle data or voice calling, unlike many commercial network plans. Much more than a service plan, FirstNet is an entire ecosystem to help them effectively respond to their critical missions. We've been serving public safety's fight in this pandemic since January. I'm humbled by the role our company plays in serving these heroes. I expect first responders can see through a carrier that shows up 5+ months late to the fight."
Free Smartphones for Postpaid Users
T-Mobile also said today that postpaid T-Mobile and Sprint customers can get a new iPhone SE for free beginning tomorrow through Monday. Customers must turn in an eligible existing device. Alternatively, they can get half off on certain other smartphones.
The company also said it has launched 5G service in San Francisco, Sacramento, Tampa and Orlando.