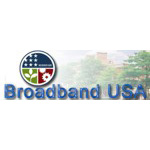 I attended the first Broadband Stimulus workshop in suburban Washington D.C. today. This workshop was a first in a series of upcoming broadband stimulus workshops taking place over the coming weeks in multiple locations across the U.S. Today's workshop provided much more detail on both the RUS Broadband Initiative Program (BIP) and the NTIA Broadband Technology Opportunities Program (BTOP).  Having the broadband stimulus program notice of funds availability (NOFA) published helped provide these details. While the workshop offered much more insight into these programs, there still remains many unanswered questions.
The workshop started as most of these government sponsored workshops do – with a series of government dignitaries – both federal and local – touting the importance of broadband. Listening to them, you'd think broadband is taking its rightful place next to apple pie in American lore. One conclusion I drew from these opening remarks is that the stimulus program is more than just about rural. More than a couple speakers representing urban interests, including Prince George's County Executive Jack Johnson, indicated their intention to pursue stimulus funding for 'unserved and underserved' populations in Prince George's County, Maryland . Prince George's county (the location of the workshop) is about as far from rural as you can get (well, at least most of it).
The workshop went on to offer specific guidance on the application process, offering breakout sessions for both BTOP and BIP programs. Both NTIA and RUS staff walked through the NOFA guidelines and did their best to interpret the rules. The process generated a ton of questions, some of which were answered, others of which were not. Attendees were encouraged to submit questions the BroadbandUSA website, so appropriate authorities could answer them more succinctly.
Many important details emerged including the need for some market research/survey data to be included with most applications, validating important requirements. For example, applicants will be required to validate the availability and penetration of broadband in certain cases to ensure their application is meeting some of the thresholds outlined in the NOFA. Some attendees complained such data was not easily available. The government's response – do your best to find out. I provide more details about the workshop in Telecompetitor's new Twitter feed
Walking away from the workshop, I was left with the impression that there is definitely an element of 'winging it' for this whole program. That's no indictment on any government official or agency. I do believe they are doing the best they can. Is there some inefficiency, with room for improvement? Absolutely. But it's much easier to 'Monday morning quarterback' this process, than it is to implement such a massive program.  The government staff promised the presentations from today's workshop will be available online – but made no promises of when.